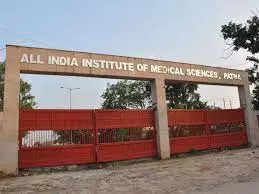 Patna: One more counter of Affordable Medicines and Reliable Implants for Treatment (AMRIT) was opened on the premises of AIIMS-Patna on Wednesday, to provide medicines and surgical implants at a cheaper rate to patients admitted to the hospital and its trauma centre.
This new facility was inaugurated by AIIMS-Patna director Dr Gopal Krushna Pal in the presence of the dean (academics), Dr Umesh Kumar Bhadani, medical superintendent Dr CM Singh, Dr Shreekant Bharti and Dr Sanjeev Kumar. While addressing a gathering on the occasion, Dr Pal said earlier the AMRIT outlet operating in the hospital had eight counters. "In future, the number of counters will be increased to 15 to dispense medicines to more indoor as well as outdoor patients," he said.
As per the official press release shared by AIIMS-Patna, the new AMRIT counter will be functional round the clock and sell drugs for cancer, heart diseases, besides surgical implants and stents at highly discounted rate, apart from other generic medicines. The medicines and implants at these AMRIT counters are available at a cheaper rate when compared to the open market, with discounts ranging from 70 to 80 per cent.
"Apart from patients undergoing treatment at AIIMS, those from outside can also avail the facility and buy medicines, except for stents which will be given to AIIMS patients only," said Ajeet Kumar, Centre incharge of AMRIT. "But one has to show a valid prescription as even shopkeepers may throng to buy the stock at a cheaper rate," said Kumar. He further said that the discount on the medicine or the implants depends on the brand as well as the type of medicine.
Kumar further added that even from the previous running counters, nearly 800 to 1200 attendants used to purchase medicines on a daily basis and around 50 people undergoing treatment outside the hospital too come to buy medicines on an average in a day.