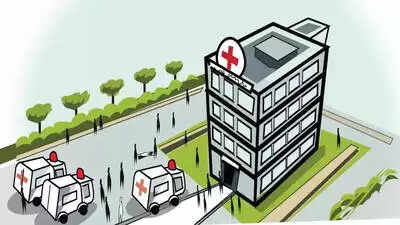 Indore: District health authorities have identified 112 private hospitals running without fire safety measures and decided to give them a final ultimatum for making those arrangements.
These hospitals would be served a final ultimatum giving them a week time to reply and provide the certificate under the new norms.
The decision to serve final ultimatum was taken following direction from district collector and magistrate Dr Illayaraja T passed in a meeting a couple of days back. Chief medical and health officer Dr BS Saitya said, "The department has identified 112 private hospitals operating without fire safety measures in district."
"These hospitals would be served an ultimatum through notices giving them the final seven days following the direction of the collector. It will be the last notice failing which cancelling the registration and sealing of the hospital would take place in accordance with new norms," Dr Saitya said.
The authorities received details about changes in norms for fire NOC requirements on January 16. The new norms mandated fire NOC for facilities with at least 50 beds or hospital buildings with 15m or more height or 500 square metre construction on any level.
The rest of the facilities must get a fire safety certificate from government empanelled auditors by applying on e-Nagarpalika website.
Under new norms, health officials had identified 60 hospitals with less than 50 bed capacity instructing them to undertake fire certificates instead of fire NOC.
Interestingly, the authorities have issued notices to around 200 private facilities in November last year to fire NOC till December 25 or to face cancellation of registration. Despite notices, less than 40 facilities provided details to health authorities or submitted fire NOC certificate. The rest skipped notices. The authorities can't act against a single facility in the district and waited for new norms.