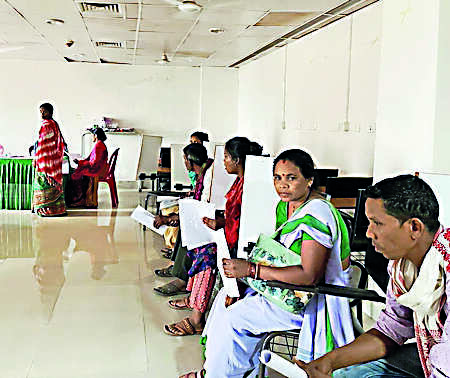 Ranchi: The state health department in collaboration with the Satya Sai Heart Hospital hosted a free two-day heart check-up camp at the Rajendra Institute of Medical Sciences (Rims) here from Saturday.
On the first day, over 270 individuals visited the camp for a check-up. Of them, 80 have been diagnosed with heart problems and will undergo surgery at the Shri Satya Sai Heart Hospital in Ahmedabad and Rajkot. The operations will be done for free.
Talking to TOI, deputy director (health) Dr R N Sharma said, "The camp is organised to assist the poor patients by giving them free check-ups and treatments. The camp is held for two age groups — those between the ages of 18 and above 18 to 65 — by the department of health in collaboration with the NGO, Prashanti Medical Services and Research Foundation, for patients who cannot afford their treatment."
He further said treatment, transportation and lodging all are provided for free. In addition, Rs 10,000 is given to a patient to cover their transportation expenses. To identify individuals with cardiac problems, the health department also conducts statewide awareness campaigns, Dr Sharma added.
A volunteer of Satya Sai Heart Hospital, Harish Patel, said, "The hospital is conducting this screening procedure at no cost. Those who have been diagnosed with a cardiac condition have been provided with a date for their Rajkot-based hospital operations. For the patients' check-ups, physicians and equipment have been brought from Ahmedabad to ensure that no problems arise."
A resident of Gumla, Manila Devi, who attended the camp, said, "We learnt about this camp through a village meeting. We are extremely pleased with the services and as they are free of cost, we won't have any financial issues."
A patient from Palkot, Binod Gop, said, "We have been provided with food and water, and we have been waiting here for our turn for the past three hours. We are not facing any issues." The free check-up camp began last year. In November 2022, a three-day camp was organised and drew a crowd of more than 1,600 individuals, health department officials said.