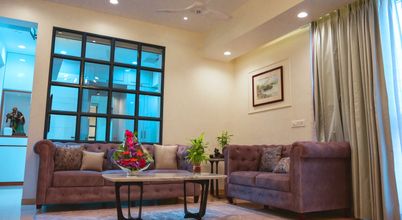 Designing a bare shell apartment poses a significant challenge at most times since everything needs to be customised. And it becomes even more challenging when it needs to be done in the middle of a pandemic. When the interior designers at Décor My Place took on the featured project, it was during the peak of the COVID pandemic in May-June 2020. It took them around two months just to complete the design, including planning the layout, making 3D models, and scheduling the electrical and plumbing work, among other tasks.
The design covered the foyer, three bedrooms, living room, kitchen, utility balcony, terrace, staircase, and dining. The comprehensive scope of work ranged from designing sofas to civil work and material selection, such as tiles for all the bathrooms and flooring, besides execution of all aspects such as floor tiling, bathroom tiling, waterproofing, plumbing, electrical work from scratch, and fabrication for the staircase, terrace pergola, glass stair railing, and glass partitions for the bathroom.
With their extensive experience in designing customised apartment interiors for customers, the team at Décor My Place didn't let the pandemic stop them from executing the project to perfection. Let's tour the project to see the immaculate finishes and the beautiful custom features that make the design unique and memorable.