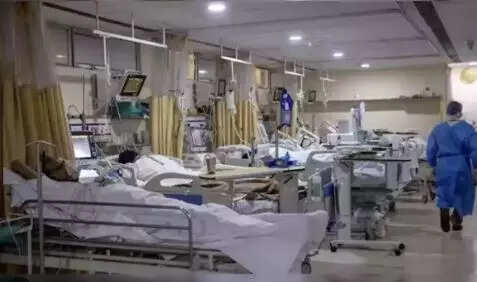 New Delhi: The national health insurance programme, Ayushman Bharat – Pradhan Mantri Jan Arogya Yojna does not cover the true cost of hospitals providing high-quality care informed Dr Sangita Reddy, Joint Managing Director, Apollo Hospitals.
She voiced her concern when ETHealthworld raised a question on why Apollo Hospitals, one of India's leading hospital chains, no longer takes part in the AB-PMJAY scheme.
"If one conducts a scientific study considering the high-quality care, the scheme does not cover the genuine costs. You won't be able to cover your cost if you do high quality care. Large hospitals will not be able to undertake this on a scale," Dr Reddy said on the sidelines of the International Health Dialogue at New Delhi.
PM-JAY considered the biggest public insurance scheme anywhere in the world, falls under the Government of India's (GoI) Ayushman Bharat initiative. The scheme was devised to touch around 50 per cent of India's population (around 70 crore) living at the periphery and pushed Below Poverty Line (BPL) defined in the Socio-Economic Caste Census (SECC) 2011 database.
As of February 23, 2023, around 15, 510 public and 12, 993 private hospitals had been empanelled under the scheme. Despite these staggeringly high figures, the inside story behind these empanelments doesn't sound very optimistic.
Dr Reddy pointed out that healthcare inflation is typically three per cent higher than general inflation, and the rate of inflation in India hovers around 6-8 per cent. "Yet the price of the reimbursement rates in the scheme has not been revised over the last 4-5 years for empanelled hospitals, though there have been small tweaks made by the government," she elaborated further.
Out of overall 28,503 hospitals empanelled 84 per cent are equipped with 0-50 bed strength. Not only is there a lack of diversity in bed strength in terms of scheme penetration and implementation, but the scheme's real-time implementation challenges have been widely discussed in the public sphere.
In the financial year 2023-24, Rs 7,200 crore has been allocated for the AB-PMJAY. However, due to lower penetration of public health insurance and poorer utilisation of funds, the scheme gets downsized every year by 50 per cent in its revised estimates of budgetary allocations since its inception.
Speaking exclusively to ETHealthworld, OP Yadava, CEO and Chief Cardiac Surgeon, National Heart Institute said, "Though the scheme envisaged providing financial cover for secondary and tertiary care hospitalisation to more than 100 million families, or about 500 million people, it had issues with inadequate funding. It had an allocation of Rs 2,000 crore for the FY 2018-2019. Putting it in perspective, even if one per cent of the families were to claim this amount, it would have amounted to Rs 30,000 crores."
The 15th Finance Commission's report on Ayushman Bharat (2019) anticipated the demand for and costs associated with PM JAY over the following five years. According to the report, the overall PM JAY costs for 2019 (centre and states) might range from Rs 28,000 crore to Rs 74,000 crore.
Explaining the pragmatic challenges associated with the scheme, Yadava said, "To bridge this gap, the government set unrealistic, fixed rates for various forms of treatment and procedures that were virtually less than 30-50 per cent of the rack rates of private hospitals, not realising that typically healthcare in the private sector works on an alfa of 10-15 per cent maximum. There were a lot of other untenable stipulations like half rates for second-time procedures and 25 per cent if a third procedure was needed. In fact, in cardiac surgery, especially paediatric, several procedures are planned as staged procedures eg Norwood's procedure for hypoplastic left heart needs a three-stage procedure, and relatively common pathology of Tetralogy of Fallot (blue baby) is most often dealt as a two-stage procedure. Even complications and additional hospital stay thereof were not reimbursable."
The Indian Medical Association (IMA) estimated that reimbursements covered only 30 per cent of the costs incurred by private institutions. "This has a potential for risk aversion on the part of hospitals, whereby high-risk cases are avoided, and even corruption and fraudulent overbilling," he added.
Dr Reddy stated that the government is now reviewing the standard price structure and called it 'good news'. She added, "The Health Ministry and Health Secretary have promised us that they are working on building acceptable standards."
Discussions on the idea of expanding the net of cashless insurance have been going on for quite some time. Among the recommendations submitted to the government by the FICCI, NATHEALTH, and many other stakeholders working on building a more acceptable standard, Dr Reddy said, "While Ayushman Bharat focuses on the bottom 400 million people, we have suggested that there are another 400 million people who will be very happy to pay for affordable healthcare. There will be an affordable number to the Indian middle class."
Some of these genuine woes of the private sector, as elucidated by Yadava, can be addressed by some governmental measures like realistic package rates, which should be fixed in consultation with medical professionals, timely release of payments, elimination of middlemen; besides a slew of other proactive measures like easy finance, tax benefits, subsidised electricity and water, land at concessional rates for greenfield projects in under-served areas, etc. "Superfluous regulatory oversight should be curtailed. Initiatives like Atma Nirbhar Bharat and PLI schemes for the medical device and pharma industries can indirectly benefit hospitals by driving down costs," he concluded.