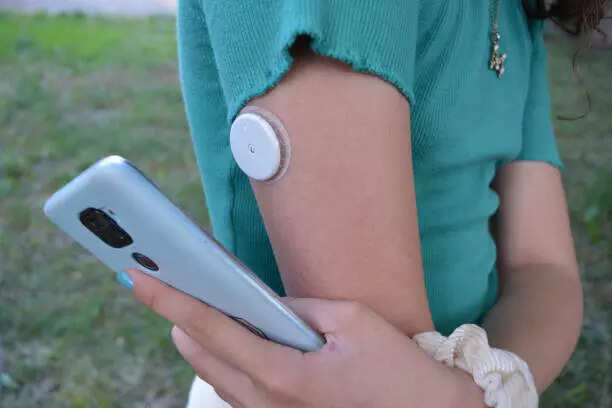 By Nisha Kumari
New Delhi: With the advent of technologies like artificial intelligence (AI) in the healthcare sector, wearable continuous glucose monitoring (CGM) sensors are revolutionising the treatment of diabetes. The diabetes disease burden has progressively increased worldwide with India having an estimated 77 million people above the age of 18 years suffering from diabetes and nearly 25 million are pre-diabetics, as per the World Health Organisation (WHO) report. AI-enabled CGM-directed insulin suspension has been promising in monitoring and preventing diabetes.
ETHealthworld spoke to a few experts on how AI-enabled CGM devices are revolutionising diabetes management that leads to better patient experiences, and the limitations that it carries.
Functioning of AI-enabled CGM devices
A CGM system has a sensor where there's a needle at the centre, which stays in the interstitium tissue-the subcutaneous layer just beneath the skin. It records the blood glucose levels in the tissues every 15 minutes. So a lot of data is generated. A sensor can be left in place for at least 7-14 days, depending on which brand one is using.
AI-based software continuously captures data for 14 days and through a 'time in range' parameter it measures the amount of time spent in the target blood glucose range- between 70 and 180 mg/dL. The software then analyses all the data and classifies it into three categories- time below range, time in range, and time above range. It also logs when the data was generated, like how much time the patient has spent in low sugar (less than 70 mg/dL), or high sugar (more than 180 mg/dL). So the recommended time in range based on the CGM generated data is 70 per cent. And to read this data a reader is also available. The reader reads the data once brought close to the sensor.
Speaking with ETHealthworld, Dr Sweta Budyal, Consultant, Diabetology & Endocrinology, Fortis Hospital Mulund said, "We use CGM usually in the out-patient department. CGM helps to give us a clear picture, and it also helps to adjust the medication and navigate through the problems at one particular time for patients whose sugar levels rise every day. The rise may be related to the kind of food that the patient is consuming at that time, or if there are gaps between the main course. So there are several things that one can address with the help of CGMs. They are usually helpful in patients who have unexplained low sugars- nocturnal hypoglycemia, with someone who has no sugars, and patients who are mild on multiple daily doses of insulin where one wants intensive sugar control like in the case of pregnant women."
One can take these sensors off after 7-14 days and download the data from them. It then gives a curve of all the glucose levels that are compiled together, which is called the ambulatory glucose profile (AGP). From this, one can get a lot of insight into how best the patient's blood sugar levels are controlled.
Limitations in readings
Although health tech has streamlined how populations interrelate with different health services and health systems, certain limitations come with these technologies as well. Dr Anil Bhoraskar, Senior Diabetologist, SL Raheja Hospital, Mahim and Secretary, Diabetic Association of India said, "There are many situations where the sensor reading can be wrong. First in the case of intraoperative hypothermia. To reduce the metabolism of the patient during surgery, the room temperature is brought down to 18-16 Celsius (°C) and that causes hyperthermia, which can give a wrong reading. So during operative procedures or major supra-surgeries, one cannot rely on subcutaneous blood sugar testing."
He added, "Secondly in areas like coronary artery bypass graft surgery (CABG patient) or major cancer surgeries, at times a lot of fluids are infused to maintain the blood pressure. That perfusion in the vital organs causes hemo-dilutional effects and the reading on the CGMS can be erroneously very low. And therefore one cannot rely on that reading during surgery."
Another limitation of these sensors is their cost factors. Dr Budyal explained, "For resource-limited countries like India, it's not affordable and accessible for everyone. So we have to use it a little judiciously. One sensor will cost around 3000-3500 rupees in hospitals. And because one device can only be used for 14 days, the device in this way sounds costlier for most patients. So CGMS is something that we advise when the patient doesn't have any cost issues."
Device software makers act as problem solvers
Doctors believe that maintaining individualised glycemic variability, ie, swings in blood glucose levels without medications can be dangerous and can have serious complications. Monitoring one's diet can be beneficial in the long run. Therefore nowadays doctors also recommend CGM monitoring devices at home. To keep a track of this, the patient is asked to check their diet and understand from the reader what is beneficial or non-beneficial for them. Now to track these glycemic variabilities, several device software makers act as problem solvers for diabetic patients who self-monitor their blood glucose levels.
Manan Chandan, Senior Director, New Initiatives, HealthifyMe said, "With the help of CGM, users can continuously monitor their glucose levels and gain insights into which foods and activities work best for them. Coaches can review the data collected by all these devices and provide personalised guidance to help customers optimise their diets and physical activities."
But as the software continuously produces a lot of data, the safety of the data is an important question. To this, Dr Arbinder Singal, CEO, and Co-founder, Fitterfly commented, "We are all Amazon encrypted web servers, and we have the usual de-identified data of the patient, ie, they are all stored in three-layer encryption. Hence the data privacy rules are very serious. The government has also provided guidelines about data privacy, and most companies follow these rules. We also adhere to those guidelines very strictly and we do not share any patient's data with anyone without the consent of the patient."
Health experts altogether believe that AI-enabled CGM devices help in managing patients' blood glucose levels by generating a lot of data and that it offers a promising future. But there are still lapses that can be filled if better technologies and new research come in.