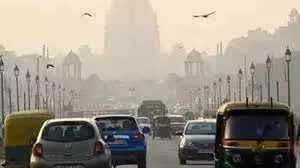 New Delhi: In collaboration with the Indian Institute of Technology (IIT), All India Institute of Medical Sciences (AIIMS) authorities are going to monitor air quality on its campus.
Low-cost portable sensors will be installed at eight-nine locations to assess the impact of various initiatives taken under "clean and green" AIIMS, said CAPHER (collaborative for air pollution and health effects research in India) coordinator Dr Harshal Ramesh Salve.
The sensors are likely to be installed near gate number 1, emergency medicine department, gate number 2 entry junction, among other places said Dr Salve, who is an additional professor at the centre for community medicine.
Meanwhile, AIIMS is going to buy 60 more vehicles for the shuttle service. Information departments have been created to provide immediate help to patients and attendants.