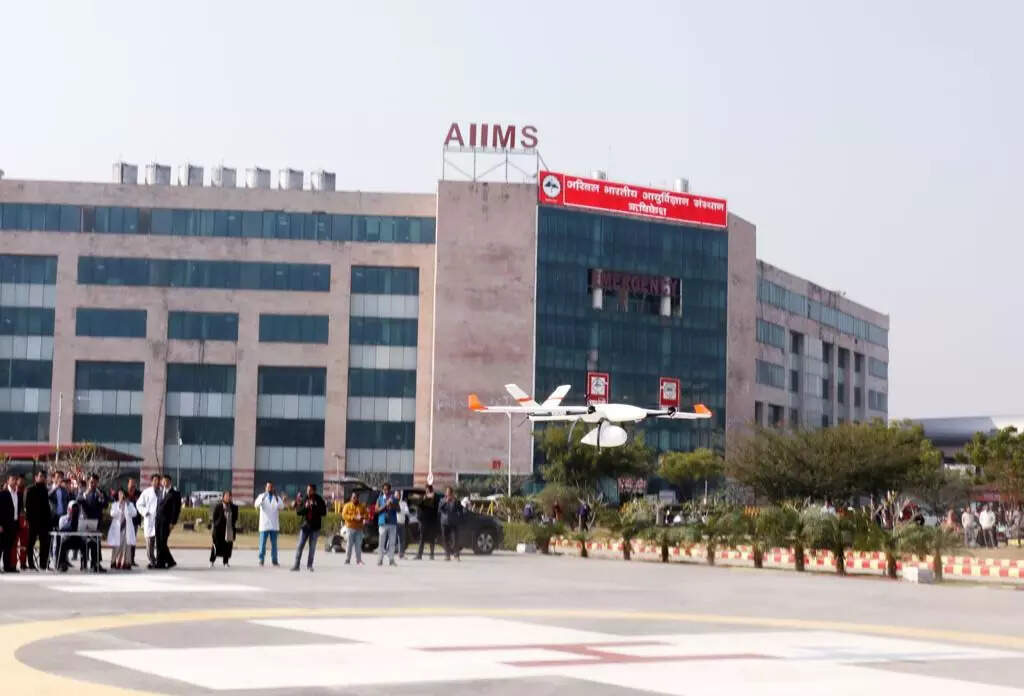 Rishikesh: AIIMS Rishikesh successfully conducted a trial for transporting anti-tuberculosis drugs by unmanned aerial vehicles (UAVs) or drones from AIIMS Helipad to District Hospital Tehri Garhwal.
TechEagle Innovations Private Limited provided the drone service for this trial and technical support was provided by the National Health Systems Resource Centre (NHSRC). Vertiplane x3 drone model was used in this demonstration and 2kg of medicines was loaded to deliver these drugs at District Hospital Tehri Garhwal Uttarakhand. Approx 40 km of aerial distance was covered within 30 minutes.
This trial was conducted in the presence of Prof Meenu Singh, Executive Director, AIIMS Rishikesh, and Nandish Ramesh Pethani, Advisor to Union Health Minister. AIIMS Rishikesh has taken this initiative to supply ATT drugs to prevent TB with the incorporation of innovative interventions which would likely reach the World Health Organisation's objective to eliminate TB.
India reported about one-fourth of the global TB burden, and its elimination remains challenging. In Uttarakhand, 275 TB cases per lakh population were estimated in 2020. Several obstacles such as poor transportation networks, hilly terrain, traffic, natural disasters affected regions, harsh weather conditions, etc, affect the timely delivery of antitubercular medications. In addition to this, unforeseen delays in transporting sputum samples to the laboratory cause delay in treatment thus affecting the outcomes in patients with tuberculosis.
Considering these challenges, it is essential to explore an effective delivery system to assist the current supply chain mechanism and timely delivery of essential life-saving medicines for tuberculosis. Unmanned aerial vehicles (UAVs) or drones are extensively used in agricultural spraying, surveillance etc. However, despite several trials of delivering medical supplies conducted in various states across the country, limited evidence is available regarding integrating the technology with the existing healthcare system and analysing the cost-effectiveness of drone technology in delivering essential medical supplies.
The prevention of TB involves early detection and treatment of cases, which is quite possible with the operation & utilisation of drone technology-based telemedicine services, specifically in the state of Uttarakhand.
The project is intended to conduct long-term feasibility and develop a model to integrate the technology into the healthcare system as a supplement to existing logistics methods and suggest ways for the long-term sustainability of drone-based delivery of medical supplies, especially TB medicines. Also, the project would calculate the cost-effectiveness of delivering medicines and transportation of sputum samples to the laboratory via drone in Uttarakhand.