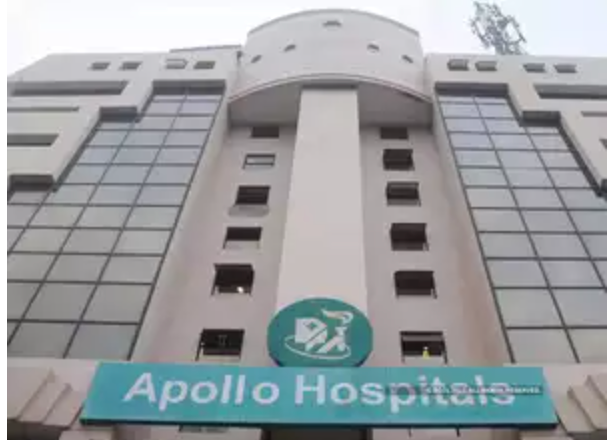 India's largest healthcare company Apollo Hospitals Enterprise posted a mixed performance in the third quarter ending December.
The company's top line grew at a strong clip of 17% ahead of the consensus estimates but the bottom line declined 33% below Street expectations. The cash burn of ₹174 crore as the operating cost of the company's digital business Apollo 24×7 impacted the profitability at the overall level. The operating profit (Ebitda) margin dropped 420 bps to 11.9%.
However, the Street acknowledged the strong operational performance and cheered the management's comment on the cash burn peaking out in this quarter. The Apollo Hospitals stock gained over 5% on Wednesday.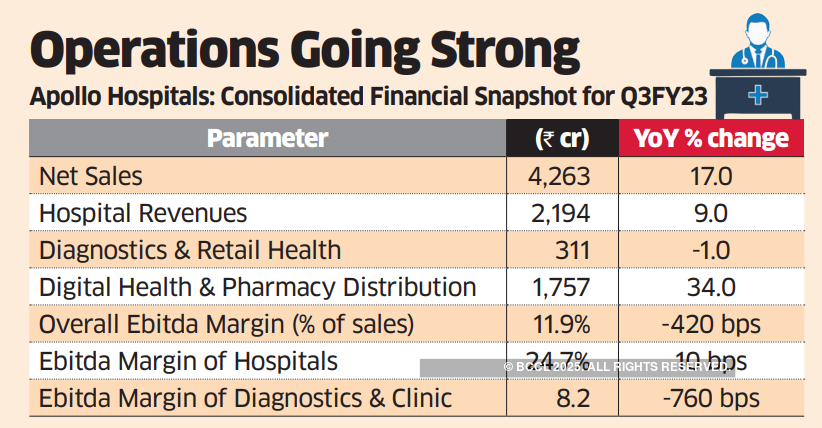 Apollo's biggest business segment of hospitals, which earns over half of its revenues, posted a 9% increase in revenues and a segment Ebitda margin of 24.7%. The average revenue per operating bed grew by 12%. The medical tourism business has recovered to pre-Covid levels. The company already has 7,855 operational beds across its facilities and plans to add 2,000 more beds over the next four years that would most likely be greenfield projects in tier-1 cities.
The company's diagnostics & retail business comprising 1,500+ diagnostic centres, 341 clinics, 114 dental centres and 23 birthing centres posted a marginal decline of a per cent on account of the base quarter favourably affected by Covid vaccination revenues. The company grew the network under this segment by 33% in the nine months of this fiscal. In diagnostics, the average gross realisation per patient has been steadily rising since the past five quarters. The company aims to reach 2,000+ collection centres in the next two quarters while also leveraging the overall Apollo Group's digital capabilities.
Apollo Hospitals has been aggressively investing in ramping up Apollo HealthCo, its business segment that houses digital health initiatives and pharmacy distribution. At ₹1,758 crore, the segment revenues grew 34% year-on-year. The gross merchandise value (GMV) of Apollo 24×7 stood at ₹543 crore – 85% over the preceding qquarter. It is on track to deliver around ₹1,600 crore of GMV this fiscal.
The operational cost of Apollo 24×7 stood at ₹175 crore. The management expects these costs to have peaked in this quarter. Apollo's pharmacy business has posted revenues of ₹2,175 crore, up 31% YoY.
The overall segment of Apollo HealthCo is expected to turn profitable by the end of FY24.
The latest quarterly performance of Apollo Hospitals has indicated that the company has recovered from the negative impact of Covid on its operations. It is investing in its integrated business model – scaling up its physical footprint and ramping up its online presence. Little wonder then that the stock commands premium valuations – a price-earnings of 84.