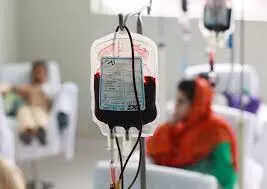 Kolkata: Many patients' families are often left to hunt for blood on their own as the blood bank attached to the hospital, where their relatives are admitted, does not have the matching group. To solve such a problem and similar ones, an app, called Bloodline Plus, will help find a voluntary donor available within 20km of the hospital concerned.
An initiative of the Rotary Club of Calcutta Mahanagar, the app was launched on Thursday.
A user will have to download the app from Google Playstore, register and request for blood."We have over 20,000 blood donors in Kolkata on our database. Earlier, we arranged for voluntary blood donors offline. This app should make it easier for those who need blood in emergency situations. We also request donors to register here so that we can expand our datbase," said Rotary International president 2021-22 Shekhar Mehta, the brain behind the initiative.
For example, a patient admitted to a hospital in the city needs three units of O+ blood and the in-house blood bank is unable to provide any or one unit. A Bloodline Plus app user can log in and submit his/her requirement. The app will send an alert to O+ blood donors in the vicinity who can send in their response.
"Many patients come to the city from other districts and know nobody here who will help with a voluntary blood donor. This app will be of great help to them. Those working in blood banks should also be aware of this app so that they can suggest this to patient families when the need arises," said Subhrojyoti Bhowmick clinical director academics, quality and research at Peerless Hospital.