It is never a completely balanced meal for us Indians, if we do not have lentils or dals in our meals. India is also blessed with a great produce of a variety of lentils. One such common preparation is the Toor Dal which is an essential part of especially a North Indian meal. Thus, on this post, I have shared a lightly spiced and delicious Punjabi style Arhar Dal recipe made with pigeon pea lentils or yellow lentils. The recipe is simple, yet comforting and nutritious too.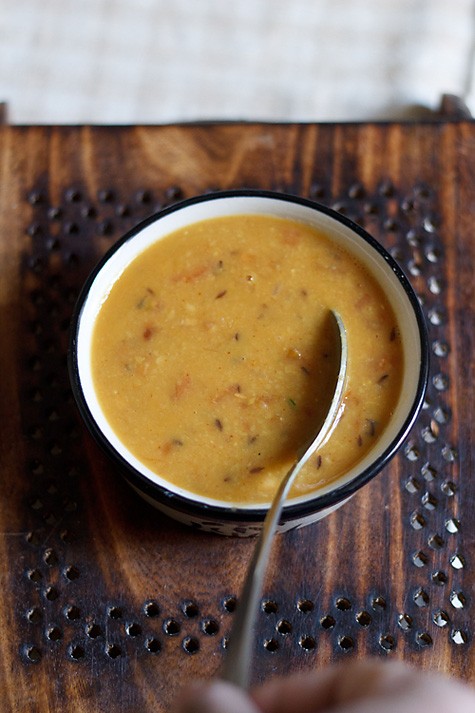 About Arhar Dal
Hulled and split pigeon pea lentils are called Arhar Dal, Tuvar Dal and Toor Dal in Hindi. These lentils have a yellow color and a nutty flavor. These lentils are also called Yellow Lentils due to their color.
Also because this curried and tempered lentil dish is made with pigeon pea lentils, it is also called as Arhar Dal.
There are many ways of making dals or lentil-based dishes and this recipe is one such popular method. This is also the way, these yellow lentils are often cooked in North India and Punjab. 
The consistency of this yummy Toor Dal is not thin but a little towards the thicker side. This consistency makes it an excellent choice to go with naan, tandoori roti or paratha.
In fact, you can even team it up with your regular phulka or chapati for a satisfying and heart-warming meal at home. It also goes well with steamed rice or jeera rice.
The difference between this Arhar Dal cooked in a Punjabi style and other recipes is that while other dishes only use oil or ghee (clarified butter), this particular recipe also makes use of a reasonably good quantity of butter.
Initially, butter or ghee is used to make the sautéed onion-tomato masala of this Tuvar Dal. Butter is added towards the final stage of cooking the dal. Some variations can also have coriander powder, but I don't add it.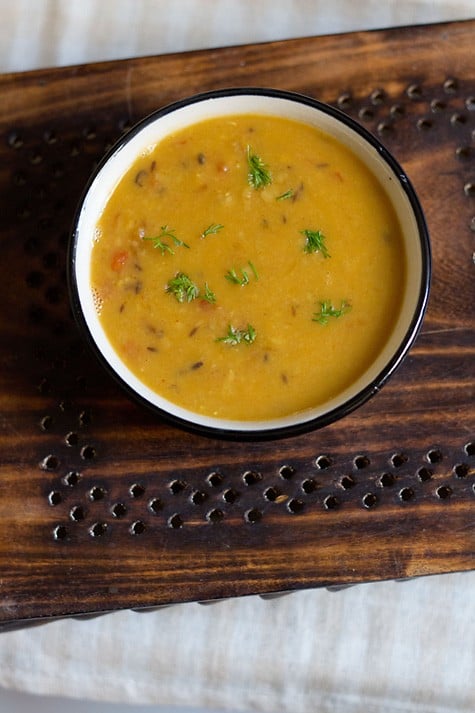 So basically, you are pressure cooking the lentils with ginger, turmeric powder and onions till completely mushy. Then, just tempering the mashed cooked Arhar Dal with ingredients like whole spices, tomatoes, green chili, garlic, onion and ground spices like turmeric powder, red chili powder, asafoetida (hing) and garam masala powder (optional).
More of flavors are created in the Toor Dal by the addition of dried fenugreek leaves (kasuri methi), dried mango powder (amchur powder) and a sprinkle of chopped fresh coriander leaves.
About My Recipe For Toor Dal
Like I mentioned earlier, I first pressure cook the lentils for this recipe of Arhar Dal. It is really easy to cook the pigeon pea lentils in a pressure cooker. But you can cook the dal in a pot too.
It takes about 45 minutes to 1 hour for this dal to cook in a pot. In the notes section of the recipe details, I have mentioned how to cook the dal in a pan or pot.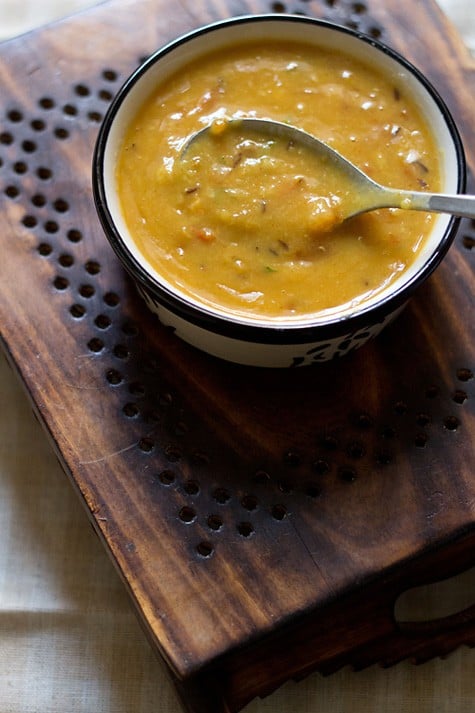 In the tempering, cloves and tej patta (Indian bay leaves) are added. However, tej patta is not related to bay laurel leaves. Both have different flavors. So, use tej patta in this Toor Dal recipe and not bay leaves. Tej patta has an aroma similar to that of cinnamon bark.
The lentils have to be cooked very well and they should be of a consistency which can be easily mashed. To know the consistency of the lentils and the way this dal is prepared, you can check the step-by-step demonstration of this popular restaurant style Dal Tadka too.
Expert Tips
You can easily cook the pigeon pea lentils or yellow lentils in a stovetop pressure cooker, pot or pan and even the instant pot.
While cooking the lentils in the pot or pan, you can a few drops of oil that will reduce the frothing of lentils. Remember to soak lentils for an hour, before you cook them in a pan or pot.
If during the cooking of the lentils in the pot or pan, you feel that the water has evaporated, then you can add some more hot water and continue to cook the lentils.
You can make the tempering in oil, ghee (clarified butter) or even butter.
Tej patta and garam masala powder are optional in this recipe. You can skip adding these.
If you do not have dried mango powder (amchur powder), then you can also add some lemon juice in the dal. This is also optional and you can make the dal without some tang in it.
More Lentil Recipes To Try!
Please be sure to rate the recipe in the recipe card or leave a comment below if you have made it. For more veetarian inspirations, Sign Up for my emails or follow me on Instagram, Youtube, Facebook, Pinterest or Twitter.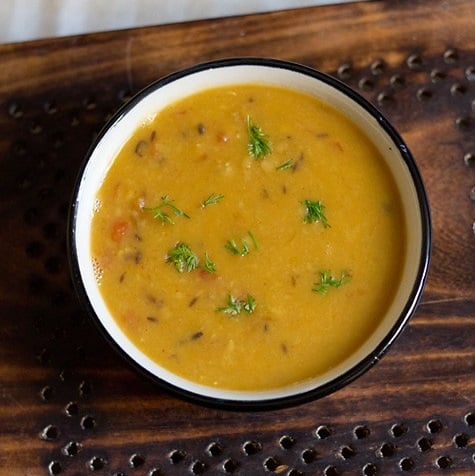 Arhar Dal | Toor Dal | Tuvar Dal
This Arhar Dal or Toor Dal is a lightly spiced and delicious Punjabi style dal made with pigeon pea lentils or yellow lentils. The recipe is simple, yet comforting and nutritious too.
Prep Time 20 mins
Cook Time 15 mins
Total Time 35 mins
For pressure cooking lentils
Prevent your screen from going dark while making the recipe
Cooking arhar dal
Pick and rinse the lentils very well in water a few times. Drain the water.

Add the lentils together with water in a 2 litre pressure cooker.

Add finely chopped onions, ginger and turmeric powder.

Stir to mix. Cover tightly with the cooker's lid.

Pressure cook on medium heat for 8 to 9 whistles till the lentils are completely cooked, tender and softened.

When the pressure drops naturally in the cooker, then only open the lid. Check the lentils and they should have a consistency that can be mashed easily.

Mash the lentils with a spoon or wired whisk. Keep the cooked lentils aside.

If the dal appears thick, then add some hot water and keep aside.
Making toor dal
Heat oil in another pan. Keep heat to a low. When the oil becomes hot, add the tej patta, cloves and cumin seeds.

First fry the cumin seeds crackle and splutter. Next add the garlic and fry for 10 to 12 seconds.

Add the finely chopped onions and sauté on low to medium-low heat until they soften or become light golden.

Add the green chilies and saute for a few seconds.

Add turmeric powder, kashmiri red chilli powder, garam masala powder and asafoetida.

Stir to mix the ground spices and then add the finely chopped tomatoes.

Sauté on medium-low to medium heat until the tomatoes become softened and you see oil leaving the sides of this base onion-tomato masala mixture.

Lastly add the crushed kasuri methi (dry fenugreek leaves) and saute for a few seconds.

Pour this tempering in the cooked and mashed dal.

Add 1 tablespoon butter or ghee (optional) and salt. You can add some water here if required.

Stir and simmer the arhar dal for 5 to 6 minutes or more till it reaches a slightly thick consistency. You can even keep medium consistency of the dal if you prefer.

If you want a slight sour taste in the dal, then add a few drops of lemon juice or ½ teaspoon of amchur powder (dry mango powder) towards the end.

If adding dry mango powder, then stir well and allow the arhar dal to simmer for 1 to 2 mins after adding it.

Garnish with chopped coriander leaves and serve the Arhar Dal hot with steamed basmati rice or jeera rice or naan or roti accompanied with roasted papad and a pickle or salad or raita by the side.
Cooking arhar dal in a pot or pan
Rinse and soak the lentils for an hour. Drain and add them to a pot.
Add 2 cups water, chopped onion, turmeric powder and finely chopped ginger.
Add a few drops of oil as this reduces the frothing in the lentils.
Stir and cover and cook the lentils.
Bring to a boil and then simmer till the lentils are cooked really well. If too much water has evaporated, then add some more hot water and continue to cook.
Recipe Notes
For the best flavor and taste, preferably use unpolished organic yellow lentils. 
To get a spicier tasting toor dal, add more green chillies.
Adjust the consistency of the arhar dal by adding less or more water. 
Opt to cook the lentils in a pan, in a stovetop pressure cooker or in an Instant Pot, adding water as needed. 
Nutrition Facts
Arhar Dal | Toor Dal | Tuvar Dal
Amount Per Serving
Calories 158 Calories from Fat 81
% Daily Value*
Fat 9g14%
Saturated Fat 5g31%
Polyunsaturated Fat 1g
Monounsaturated Fat 2g
Cholesterol 21mg7%
Sodium 356mg15%
Potassium 138mg4%
Carbohydrates 17g6%
Fiber 5g21%
Sugar 3g3%
Protein 5g10%
Vitamin A 345IU7%
Vitamin B1 (Thiamine) 1mg67%
Vitamin B2 (Riboflavin) 1mg59%
Vitamin B3 (Niacin) 1mg5%
Vitamin B6 1mg50%
Vitamin C 8mg10%
Vitamin E 1mg7%
Vitamin K 3µg3%
Calcium 33mg3%
Vitamin B9 (Folate) 9µg2%
Iron 1mg6%
Magnesium 11mg3%
Phosphorus 21mg2%
Zinc 1mg7%
* Percent Daily Values are based on a 2000 calorie diet.
This Arhar Dal from the archives, originally published in April 2014 has been updated and republished on February 2023.
Source link