Beetroot cutlet recipe with step by step pics. Crispy and delicious beetroot patties made with beets, potatoes, semolina and spices. A vegan beetroot tikki recipe.
These cutlets can be had plain or you can pair them with some burger buns or in pita bread or make wraps or rolls from them.
The recipe of beetroot cutlets is easy. boil and then mash beetroot and potatoes. Add spices, mix and shape in tikkis. Then coat them in semolina (rava) and then pan fry them. For frying, you can add little oil as possible or use a non-stick pan for frying.
Beetroots are favorite tubers and I make many Recipes with beetroots like beetroot paratha, beetroot halwa, beetroot poori etc.
This beetroot cutlet recipe is adapted from "flavors of Mumbai" blog here – Beetroot patties recipe. ever since I made them for the first time, I have been making these cutlets occasionally and they have always been a hit at home.
I did make some minor adaptations to the recipe. What turned out was a Fantastic Beetroot tikki much in taste similar to the North Indian aloo tikki. We had paired these with homemade burger buns and some Indian chutneys with onion, tomato slices.
These beetroot tikki pair well With burgers or Indian pav. Also they will make a good combo with the Punjabi chana masala. Even can go well with some mint chutney and sweet chutney along with some yogurt.
How to make Beetroot cutlet
1. Rinse 2 medium-sized beetroot (250 grams beetroot) and 3 medium or 2 large potatoes (275 grams potatoes). Place them in a 2 litre pressure cooker. Add enough water just about covering the potatoes. Also add ½ teaspoon salt. Pressure cook for 7 to 8 whistles on medium flame. Open the lid when the pressure settles down and drain all the water.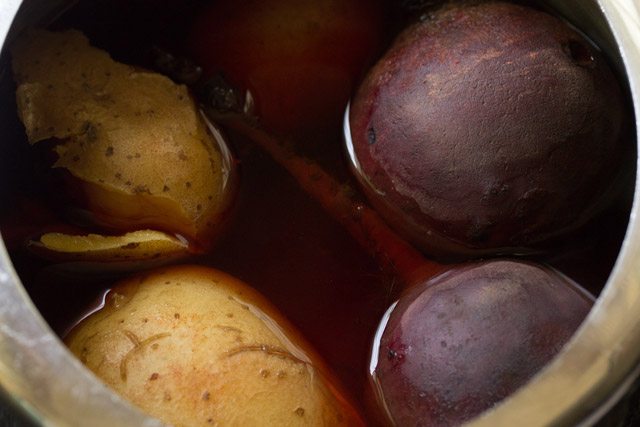 2. Once both the beetroots and potatoes become warm or cool down, then peel and grate them in a bowl. Let the grated potatoes and beetroot cool down completely.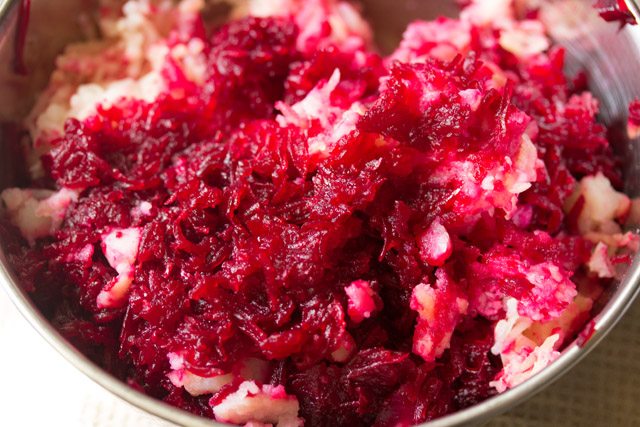 3. Then add 1 teaspoon ground or minced ginger and 1 green chili (finely chopped).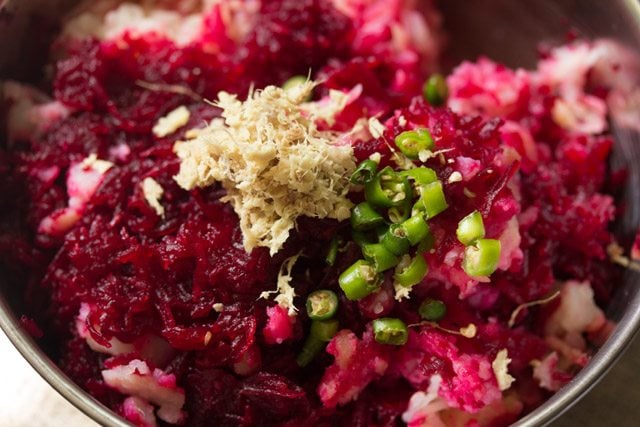 4. Add the following spice powders – ¼ teaspoon turmeric powder, ½ teaspoon Kashmiri red chili powder (or cayenne pepper), 1 teaspoon fennel powder, ½ teaspoon garam masala powder, 1 teaspoon coriander powder, 1 teaspoon chaat masala and 1 teaspoon dry mango powder (or 1 teaspoon lemon juice). Also add 1 teaspoon salt or as per taste.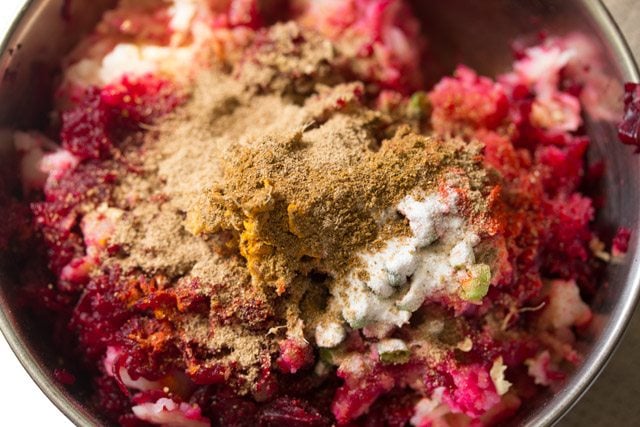 5. Now add 2 tablespoons corn starch. Instead of corn starch you can use rice flour or roasted gram flour (besan) or 2 to 3 slices of bread. For the bread dip in some water. Then squeeze all the water and add. Even bread crumbs can be added.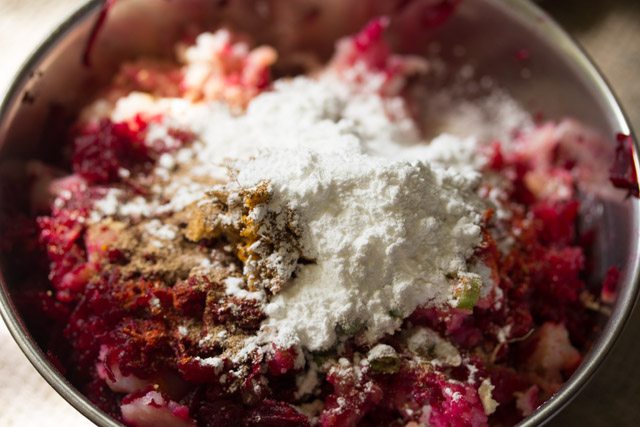 6. Mix very well. Check the taste and add more salt if required.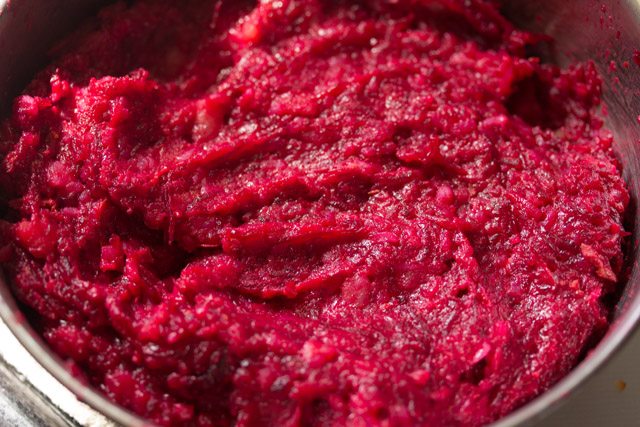 7. Now shape into tikkis or cutlets or patties. If the mixture feels loose and moist, you can add more corn flour, rice flour or bread slice.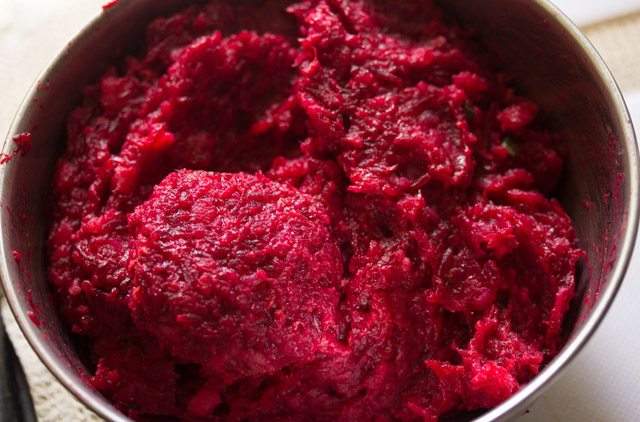 Making beetroot cutlet
8. In a plate take ½ cup rava (sooji or cream of wheat). Place the beetroot cutlet on the rava and dredge it evenly with the fine rava granules. Dust of extra rava in the plate itself.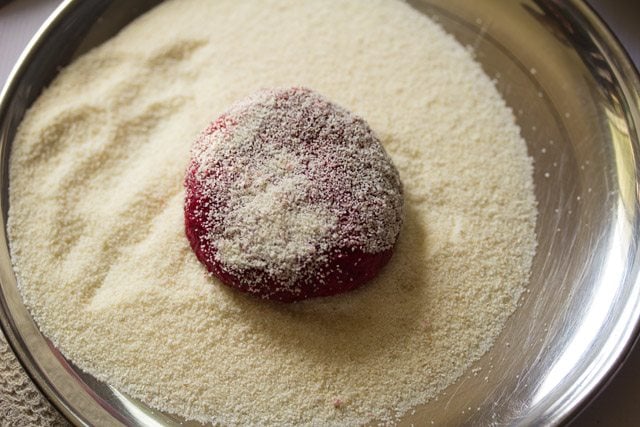 9. This way dredge or coat each beetroot cutlet with the rava and keep aside.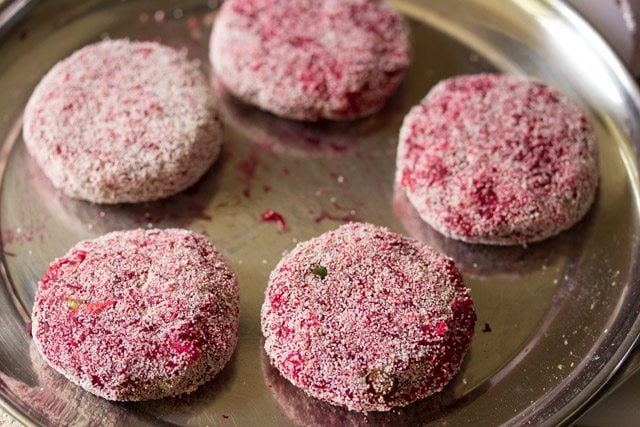 10. Heat 2 tablespoons of oil for frying in a pan or tawa. Keep the heat to medium-low or medium. Place the beetroot tikki and begin to pan-fry them. Fry them in batches depending on the size of skillet, pan or tawa.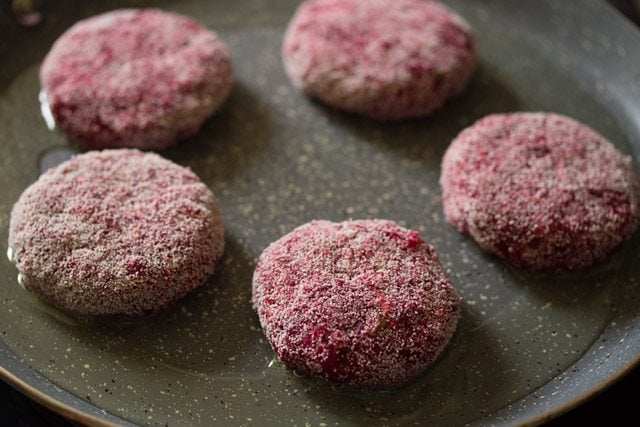 11. When one side looks crisp and golden turn over each beetroot cutlet gently with a spatula and fry the second side.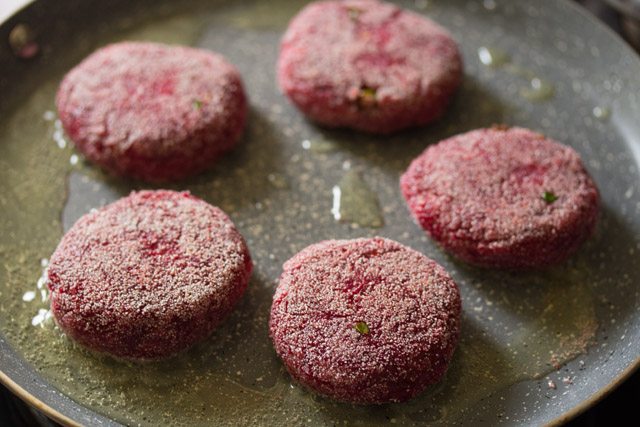 12. Turn again a couple of times for even frying. Fry them till crisp and golden, but ensure not to burn them.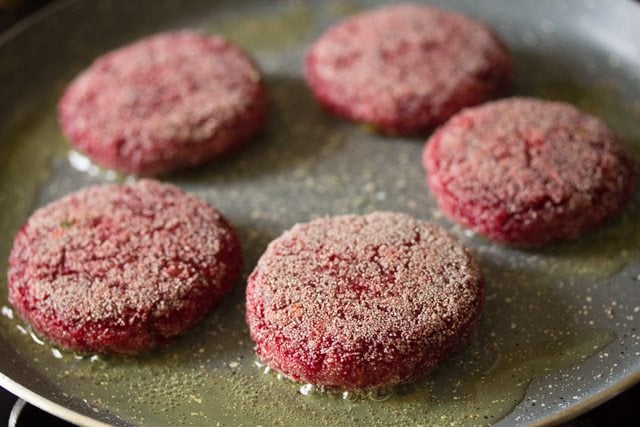 13. Place them on kitchen paper towels for extra oil to be absorbed.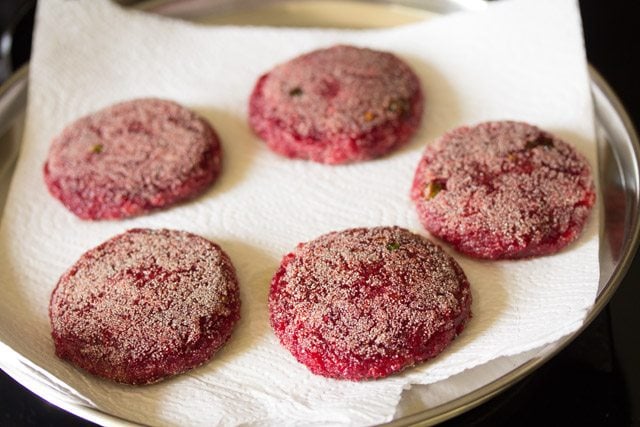 14. Serve beetroot cutlet hot with any chutney or dip of your choice like tamarind chutney or coriander chutney or sweet green chutney.
You can even make burgers or sliders or wraps with the beetroot patties topped with your preferred sauces and veggies.
Sometimes I make sandwiches with these patties and serve them as an evening snack.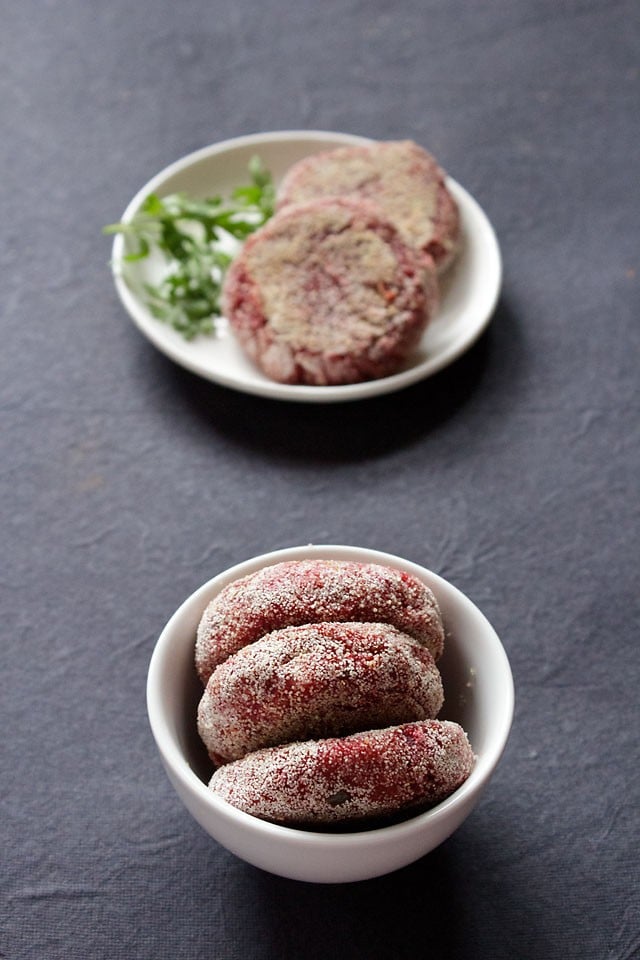 Please be sure to rate the recipe in the recipe card or leave a comment below if you have made it. For more vegetarian inspirations, Sign Up for my emails or follow me on Instagram, Youtube, Facebook, Pinterest or Twitter.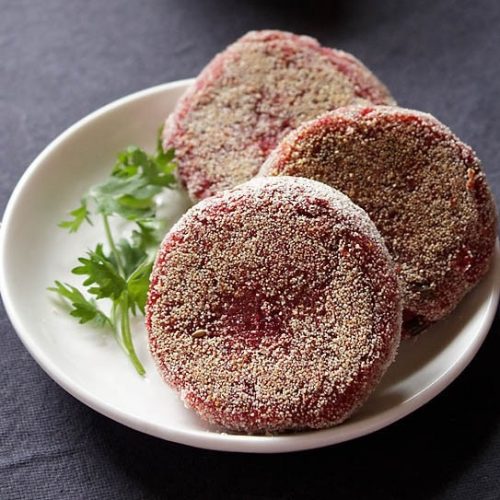 Beetroot Cutlet (Vegan)
Crispy and delicious beetroot patties or cutlet made with beets, potatoes, semolina and spices.
Prep Time 20 mins
Cook Time 20 mins
Total Time 40 mins
Prevent your screen from going dark while making the recipe
preparation
In a pan or pressure cooker, boil both the beetroot and potatoes together with some salt and enough water for 7 to 8 whistles on medium flame. 

Drain all the water. Then peel and grate the beetroot in a bowl. 

Grate the potato in the same bowl. This is done to get a even smooth mashed potato mix.

Add all the spice powders, green chili, salt and corn starch. Instead of corn starch you can also add rice flour or soaked bread slices.

Mix everything well with your hands. Now shape them into round patties or tikkis.
making beetroot cutlet
Take some roasted semolina (rava) in a plate.

Place each cutlet on the semolina and ensure that they are evenly coated on all sides by the semolina.

Dust off the extra rava. 

In a pan add some 2 tablespoons oil and fry the cutlets till they are crisp and golden.

Place the fried cutlets on kitchen paper towels for extra oil to be absorbed.

Serve beetroot cutlet hot with any chutney or dip or sauce of your choice. 
Do check the salt in the mixture before coating and frying the tikkis or cutlets.
If the beetroot tikki do not hold shape then add more corn starch or rice flour or one more slice of bread to the mashed beetroot mixture.
You can also bake the beetroot tikki in the oven instead of pan frying them. For baking preheat oven at 180 degrees celsius for about 10 minutes and then bake for 15 to 20 minutes or till the beetroot tikkis are done.
Nutrition Facts
Beetroot Cutlet (Vegan)
Amount Per Serving (4 g)
Calories 94 Calories from Fat 27
% Daily Value*
Fat 3g5%
Saturated Fat 1g6%
Trans Fat 1g
Cholesterol 1mg0%
Sodium 280mg12%
Potassium 210mg6%
Carbohydrates 15g5%
Fiber 2g8%
Sugar 2g2%
Protein 2g4%
Vitamin A 38IU1%
Vitamin B1 (Thiamine) 1mg67%
Vitamin B2 (Riboflavin) 1mg59%
Vitamin B3 (Niacin) 1mg5%
Vitamin B6 1mg50%
Vitamin C 5mg6%
Vitamin E 1mg7%
Vitamin K 1µg1%
Calcium 16mg2%
Vitamin B9 (Folate) 47µg12%
Iron 5mg28%
Magnesium 17mg4%
Phosphorus 32mg3%
Zinc 1mg7%
* Percent Daily Values are based on a 2000 calorie diet.
This Beetroot Cutlet Recipe from the archives first published in July 2012 has been republished and updated on November 2022.
Source link