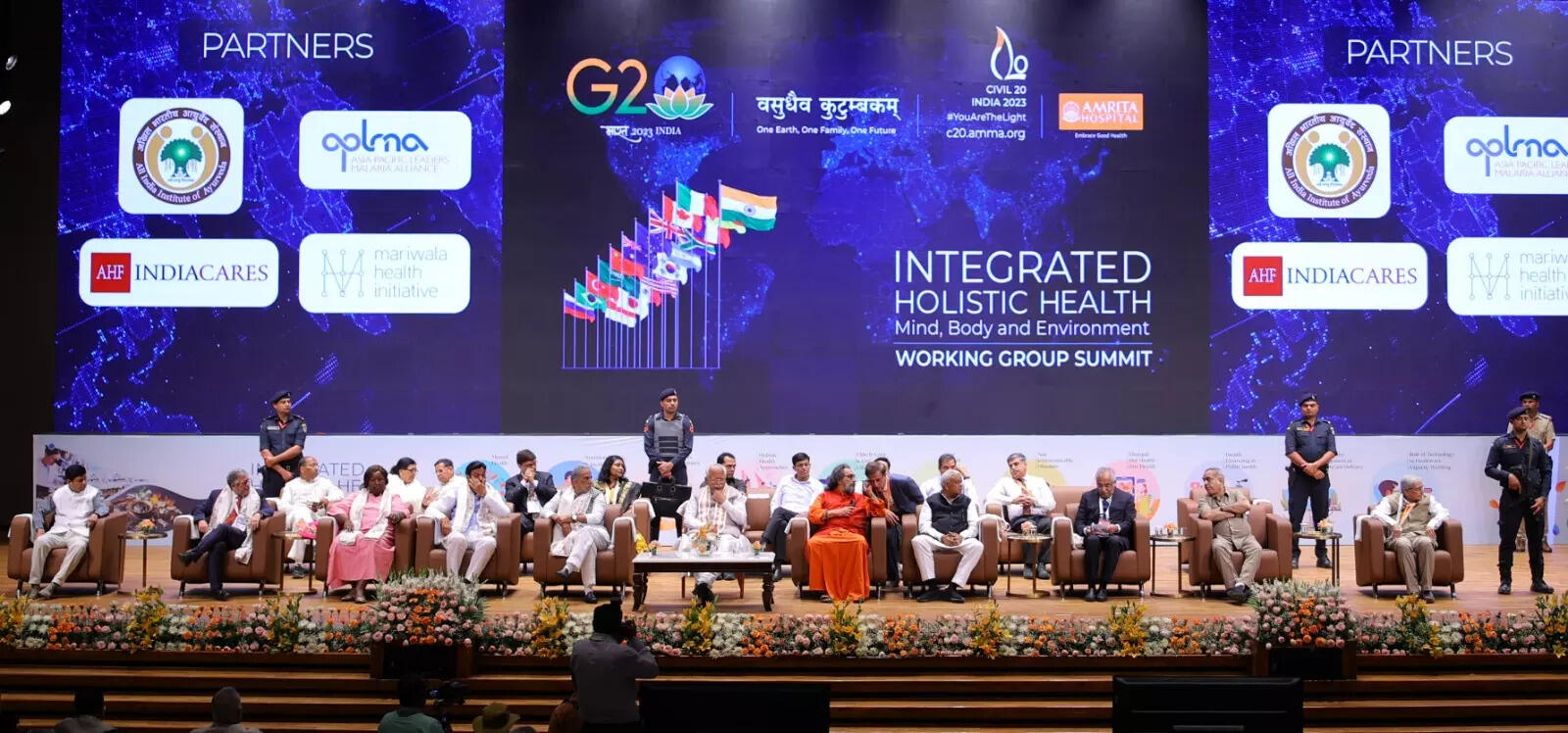 FARIDABAD / April 8, 2023: The Integrated Holistic Health Summit of Civil 20 (C20), one of the official Engagement Groups of the G20, has been inaugurated at Amrita Hospital, Faridabad by Shri Manohar Lal, Chief Minister of Haryana.
Dignitaries present during the inaugural ceremony included Shri Krishan Pal Gurjar, Union Minister of State for Power and Heavy Industries; Shri Ranjit Singh, Haryana's Minister for Energy; Shri Rajesh Nagar, MLA, Tigaon, Faridabad and Dr. Manoj Nesari, Advisor, Ministry of AYUSH.
Tedros Adhanom Ghebreyesus, Director General of the World Health Organization, addressed the delegates virtually. Former Health Ministers from countries such as Argentina, Rwanda, and Malawi, were also present at the Summit, along with Swami Amritaswarupananda Puri, Vice Chairman, Mata Amritanandamayi Math and Troika Member C20, as well as Vijay K. Nambiar, C20 Sherpa.
Addressing the audiences, Shri Manohar Lal, Hon'ble Chief Minister of Haryana, said: "Health is a basic necessity of life that leads contentment among people, contributing to the overall Happiness Index. We need to develop and adopt traditional systems of health so that we do not fall ill at all. While Government budgets are high for treatment of disease, there is not enough attention on staying healthy by prevention of disease. We in Haryana have started focusing on both physical and mental health of people. We have made a program to open wellness centers, including Yoga and Ayurveda, in each village. Work on 700 such centers has already begun. Due to the use of chemicals, pesticides and pollution, food, and environment are now leading to disease. We need to turn them into medicine again by reverting to traditional systems."Said Tedros Adhanom Ghebreyesus, Director General of the World Health Organization: "We are halfway to Sustainable Development Goals (SDGs). There are many challenges ahead to reach the SDG health targets. Even before Covid 19, billions of people missed every year on essential health services either because they couldn't access them or afford them. The Pandemic has set us further back. We saw 90% of countries reporting disruptions in essential health services. Covid 19 has shown why universal health coverage is so important and why we must pursue it with even more determination, innovation and collaboration. That is why one of the WHO's top priorities is to reorient health systems towards primary healthcare and foundation of universal health coverage and health security. Integrating evidence-based traditional medicine into national health systems can contribute to achieving health for all."
During the two days of the Summit, delegates from more than 700 CSOs, health professionals, educators, and leaders from across the public health landscape would participate in discussions and workshops that will directly impact the policy recommendations that will be launched at the C20 Summit in July 2023. The sessions would focus on seven key areas of public health including mental health, nutrition, women's and children's health, elderly care, holistic health approaches, One Health, and the reduction of non-communicable diseases.
In her message to the delegates at the inaugural ceremony, C20 Chair Mata Amritanandamayi Devi (Amma), said: "Integrated healthcare is a part of the C20 process. Today, most people perceive health only as related to the physical body. However, human existence is not merely at the level of the body. Mental, intellectual, and emotional health are also important. Over and above, we must acknowledge the strength of the all-pervasive spirit, the ātma-śakti, that imbues everything with consciousness. When one gives all these factors equal importance in one's life, the meaning of healthcare becomes complete."