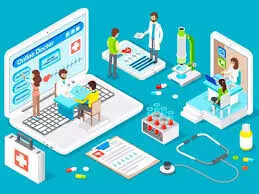 Bhopal: State Congress on Friday alleged a massive scam to the tune of Rs 500 crore in the Ayushman Bharat Scheme and demanded a CBI investigation to expose the nexus between the government and the medical mafia.
In a press conference, state PCC media cell chief KK Mishra and spokesman Amitabh Agnihotri alleged that 422 Ayushman hospitals out of a total 627 in the state have been suspended due to irregularities. "This detail can be found on the Ayushman portal," Mishra said. "However, in the state assembly Madhya Pradesh government gave a list of only 154 hospitals involved in irregularities," he alleged.
Party spokesman Amitabh Agnihotri said that with such a massive scam in a Union government Ayushman Bharat scheme, the state should have registered an FIR against the hospitals involved and officials who patronized them. "Why haven't you registered an FIR when so many hospitals are involved in irregularities? Why is the government protecting the culprits?" Agnihotri asked.
"Answering a question in the state assembly on December 12, 2022, the government said there are 506 private hospitals under Ayushman Yojana. The government accepted that under the scheme, Rs 1610.32 crore was spent on treatment of 5,16,589 patients in 51 districts from March 20, 2020 till the date of question," Amitabh Agnihotri said. "The government accepted that irregularities were found in 154 Ayushman hospitals, on which action was taken. FIR was registered against one hospital only," he said.
The Congress asked why FIR was registered against one hospital and not the other 153? The party said that MLA from Raghogarh seat Jaivardhan Singh in a letter to CM Chouhan dated December 22, 2022 asked why there is a discrepancy between the answer by the government in the state assembly and information on the Ayushman portal.
However, in the Ayushman portal it says there are 14 public hospitals, 22 non-profit private hospitals and 177 private hospitals for profit which is a total of 213 hospitals in Bhopal district.
According to the information in the Ayushman portal, the list of suspended hospitals has been mentioned as 422, of which 84 hospitals are in Bhopal. Congress claimed there are 545 Ayushman hospitals for profit and 82 non-profit Ayushman hospitals in the Ayushman portal. That is, a total of 627 private Ayushman hospitals in Madhya Pradesh working under the scheme. After suspension of 422 hospitals for irregularities, only 205 Ayushman hospitals are active in the state.
Mishra and Amitabh Agnigotri asked why the Shivraj government has not registered FIR against culprit hospitals after irregularities. "Why hasn't anyone gone to jail for bungling with a scheme of the Union government meant for medical treatment of people?" Mishra asked.