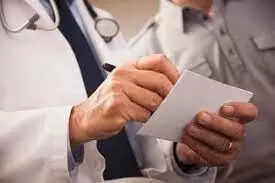 New Delhi: The Delhi Medical Council (DMC) has suspended a Dwarka-based private practitioner for one year for allegedly issuing fake medical certificates to an accused to help him get interim bail from Delhi High Court.
In 2021, three different medical certificates were allegedly issued to Rambeer Shokeen by Dr Hemant Tewari, an MD in anesthesia, recommending urgent biopsy or excision of sebaceous cyst and pain in the scrotal region that could be due to hernia, in June, July, and August, respectively. On the basis of these certificates, Shokeen filed an application for interim bail for a period of 45 days for medical treatment/surgery.
Shokeen was booked by Delhi Police Special Cell under section 174 A of the Indian Penal Code and under the stringent sections 3 (punishment for organised crimes) and 4 (punishment for possessing unaccountable wealth on behalf of a member of organised crime syndicate) of the Maharashtra Control of Organised Crimes Act (MCOCA) in 20.
DMC secretary and registrar Dr Girish Tyagi said that a doctor can issue a medical certificate for a maximum time of 15 days. "It can be extended only after conducting a proper medical examination," he said, adding that before issuing a certificate, the doctor should identify the person and examine him/her personally.
He added that many doctors in the city would be doing this "unethical" practice but action against them can only be taken when the council receives complaints.
Officials said that several cases of issuing fake certificates by city-based doctors have been reported in the past. In such cases, the disciplinary committee takes action by removing the doctor's name from the state medical register for a certain period for misconduct and directs them to refrain from such unethical practices in the future. They can't practice during the period of suspension and if they are caught practicing, strict action is taken against them, they said.
Last year, an MBBS doctor Ashok Sharma from Shahdara was suspended for 90 days for allegedly issuing a false medical certificate of mental illness to a patient for one year without referring the patient to a psychiatrist. According to DMC, such cases happen either because of monetary benefits or for personal consideration.