Here's a dish that's as interesting in its flavors as is in its name – Dukkah. It traditionally belongs to the Egyptian cuisine and also is a part of other Middle Eastern cuisines. The Dukkah Recipe is a super easy, simple, quick and tasty condiment made with nuts, seeds and spices. Since it does not have any fats added to it and there's only the natural fats from the nuts and seeds in this ground mixture, it is also a nutritious food choice. It is also known as duqqa/dukka, doa or duah.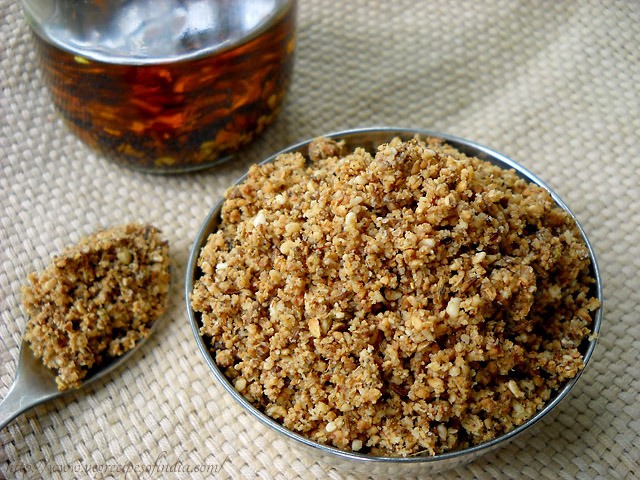 What is Dukkah
Dukkah or Duqqa is basically an Egyptian condiment with nuts, seeds, spices and herbs as its primary ingredients. All ingredients are dry roasted, then put in a food processor or a mixer-grinder along with seasonings (usually sea salt) and ground to a coarse mixture.
Dukkah Recipe is essentially made to be served as a dip with a combination of crusty bread or fresh vegetable crudités as a snack. Traditionally, the bread or veggies are first dipped in olive oil and then in the duqqa. This can also be served as a starter.
The word Dukkah has its origin in the Arabic language, a word which means 'to pound.' Certainly, the way this delicacy is prepared explains this association.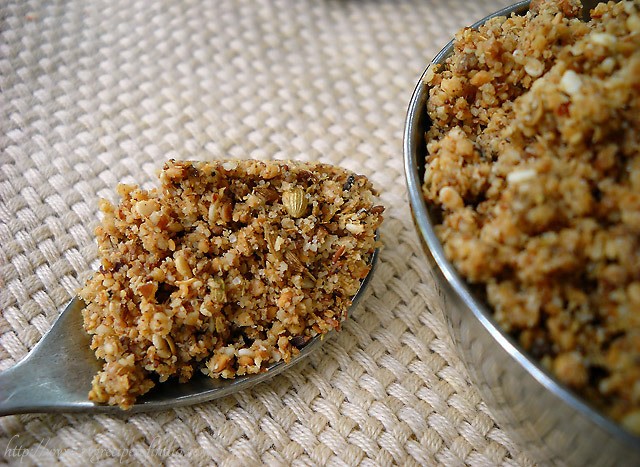 So, not just in the Egyptian food culture, it is also popular in other Middle Eastern and Arabic cuisines. In the region of Hejaz in Saudi Arabia, it has been a speciality since ages.
There is no precise composition for the most original Dukkah Recipe. As the spice-seed-nut mixture varies from person to person. Each family has their own signature recipe to it.
Some of the most common ingredients that go in this dish are coriander seeds, sesame seeds, zaatar, black peppercorns, cumin seeds, hazelnuts, almonds, pine nuts, sunflower seeds and pumpkin seeds. Some versions can also have chickpeas and mint in them.
More on Dukkah Recipe
The Dukkah recipe was first shared with me by an Australian colleague who had make it for us on a few occasions. He had also told me how this condiment is very popular even in Australia as well as in the United States too.
At home, we use the Dukkah on toasted wheat bread drizzled with some olive oil and also on salad and rice. It really enhances the flavor of the food and makes it ultra-yummy.
Generally, hazelnuts are the preferred choice of nuts in a classic Dukkah Recipe. But other nuts, like almonds, pistachios, pinenuts, walnuts or even a combination of them, can be used to make it. In my recipe, I have used almonds.
Sesame seeds are also important in a Dukkah Recipe. But along with sesame seeds, you can also add seeds like sunflower seeds, melon seeds, pumpkin seeds, flax seeds or a combination of all these seeds. I have added only sesame seeds in my recipe.
Remember if you use flax seeds, then you have to keep the Dukkah in the freezer and use it in a week's time, as later the flax seeds get rancid. I sometimes make another healthy blend using sesame seeds and flax seeds.
For the spices, I have added coriander seeds, cumin seeds, fennel seeds and black peppers in my recipe. Seasoning can be done best with sea salt. But if you don't have it, you can add regular salt too.
Step-by-Step Guide
How to make Dukkah
Roast Ingredients
1. Take 1 cup almonds and roast them in a frying pan or a skillet (on medium-low to medium heat) until they become crunchy. Set aside in a plate.
You can opt to toast the almonds in the oven if you prefer. Layer them in a single layer on a baking tray/baking sheet and toast in a pre-heated oven at 180 degrees C/356 degrees F for 10 to 12 minutes or as needed until the almonds look toasted and have a crunchy texture.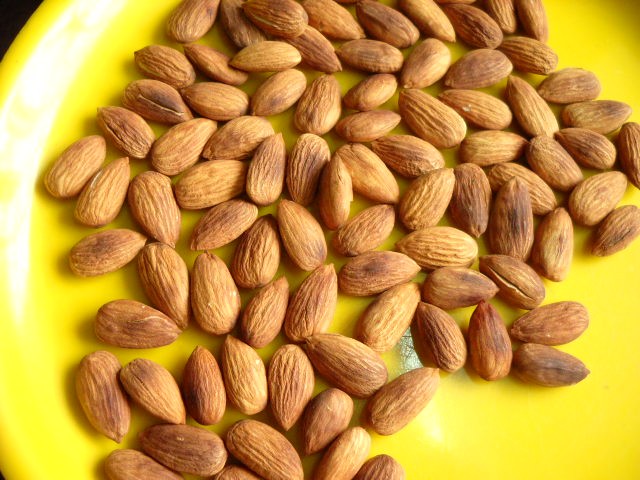 2. In the same pan, start roasting ½ cup white sesame seeds on a low to medium-low heat.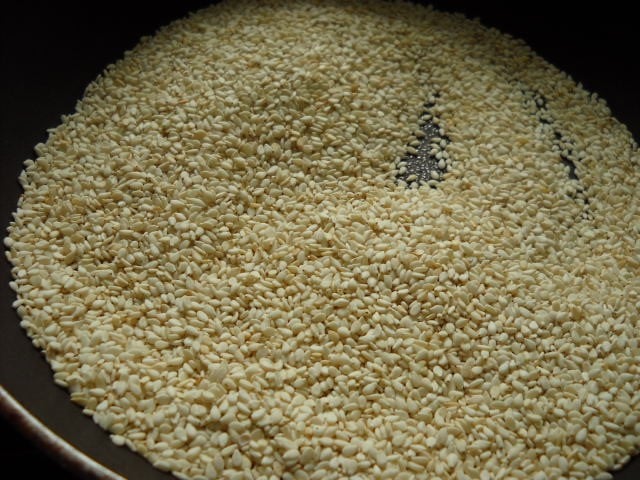 3. Roast the sesame seeds till they pop and change color. Stir often so that the seeds do not burn or get browned. Remove from the pan and set aside.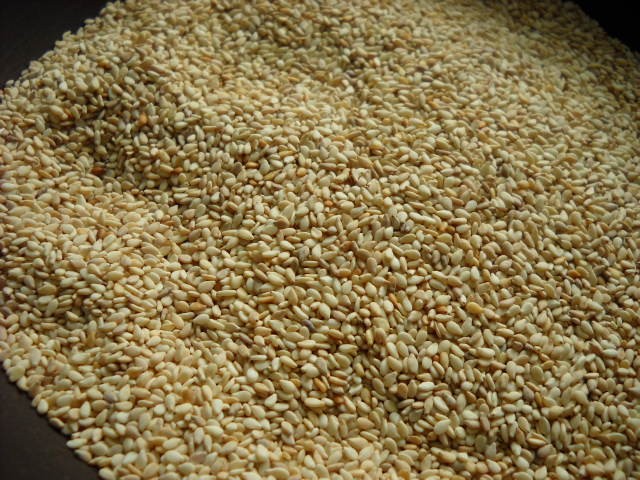 4. In the same pan, roast 2 tablespoons coriander seeds, ½ tablespoon fennel seeds, 2 tablespoons cumin seeds and ½ teaspoon black peppercorns till fragrant. Set aside.
Let these toasted or roasted nuts, seeds and spices cool at room temperature. Ensure that they are completely cooled before you process them or else they can become pasty.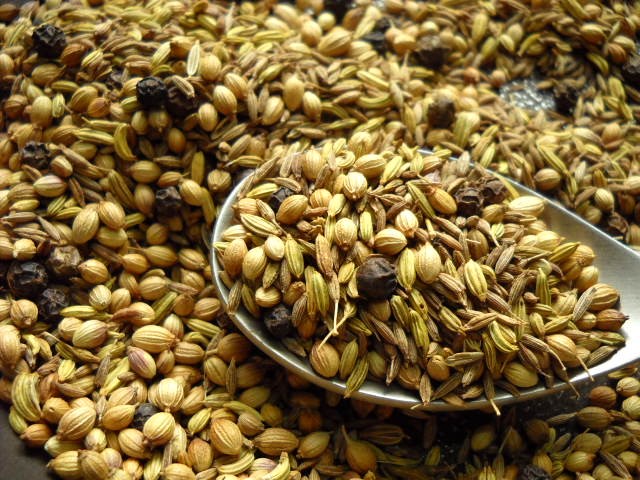 Make Dukkah
5. Now firstly, in a coffee-grinder or a mixer-grinder or a food processor, process or grind the roasted almonds using the pulse option, to a coarse mixture with small chunks of almonds.
Do not process the almonds for too long or else you will get almond butter.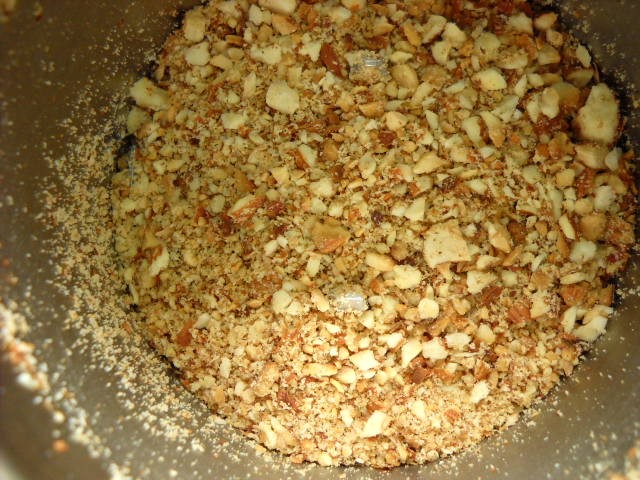 6. Next, add all the other roasted whole spices to the food processor or mixer-grinder or coffee-grinder.
7. Add regular salt or sea salt as per taste.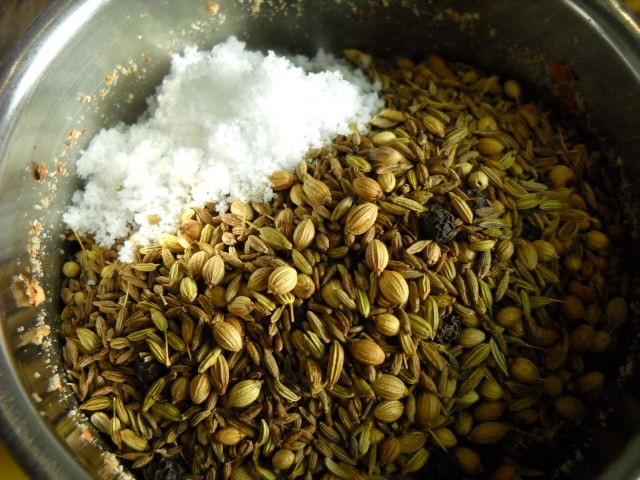 8. Process or grind the spices and the already ground almonds together using the pulse option or till the desired level of coarseness is achieved. You have to process until you get a coarse sand-like texture.
Do not process too much and make the mixture superfine or pasty.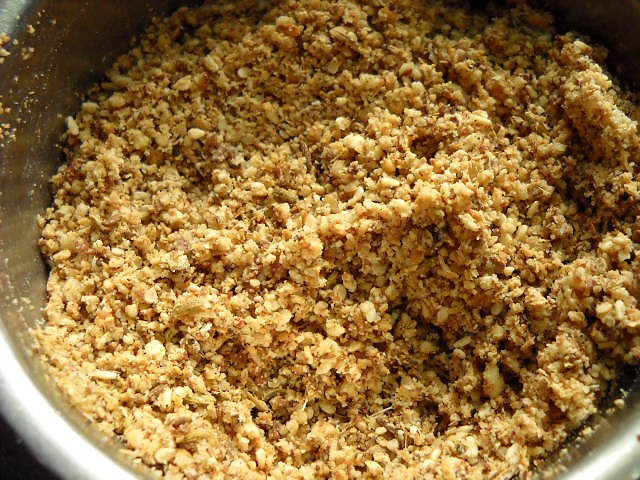 9. Transfer to a clean air-tight jar and store in the refrigerator. Serve Dukkah as needed with your meals.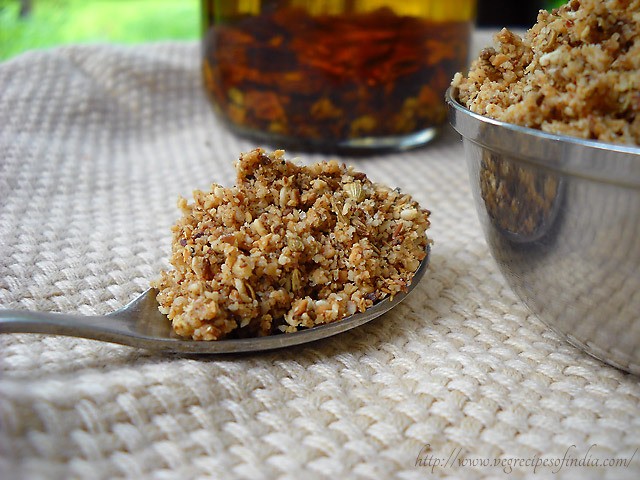 Expert Tips
Cool all the ingredients after they have been roasted. If you put them hot or warm in the grinder jar, then due to moisture, they can clog to each other and become paste like.
Ensure that the nuts, seeds have not gone rancid and within their shelf life. Do not use pre-roasted or toasted and salted nuts or seeds
To increase the spice level in this dish, you can add some more dried red chilies or even red chili flakes.
As I mentioned earlier, some Dukkah recipes have also zaatar, marjoram, chickpeas and mint added in it. Adding dried mint will impart a cool fragrant flavor to the duqqa.
Explore with different varieties of seeds, nuts and spices, and create the fusions and flavors you like.
You can season the duqqa either with sea salt or regular salt.
More Similar Recipes To Try!
Please be sure to rate the recipe in the recipe card or leave a comment below if you have made it. For more vegetarian inspirations, Sign Up for my emails or follow me on Instagram, Youtube, Facebook, Pinterest or Twitter.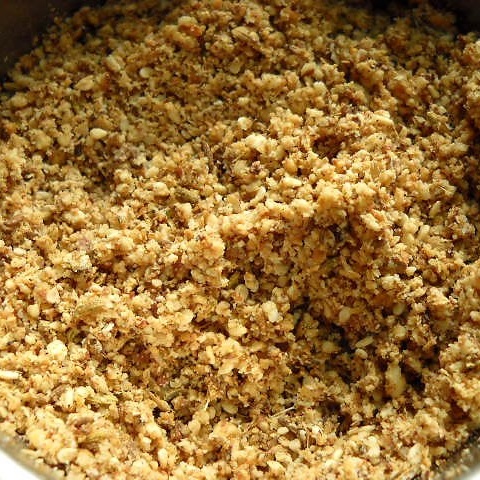 Dukkah Recipe (Egyptian Nut and Spice Blend)
Dukkah is a simple, quick, healthy and delicious condiment of a nuts, seeds and spices blend from the Egyptian Cuisine. It is also known as duqqa/dukka, doa or duah.
Prep Time 0 mins
Cook Time 20 mins
Total Time 20 mins
Prevent your screen from going dark while making the recipe
In a frying pan or skillet, roast the almonds on medium-low to medium heat until they are lightly browned. Transfer to a plate and set aside.

Roast the sesame seeds in the same pan on low to medium-low heat till they pop and their color changes. Set aside.

Roast the coriander seeds, cumin seeds, fennel seeds, black peppercorns till they smell fragrant. Set aside.

Let the roasted/toasted nuts and seeds cool completely at room temperature.

Once cooled, transfer them to a food processor, coffee-grinder or a mixer-grinder.

Process or grind using the pulse option until you get the desired level of blend, slightly coarse or semi-fine.

You can also opt to process or grind the almonds first and then the sesame seeds and spices like I have done in the step-by-step pictorial above.

Remove in an air-tight jar. Store Dukkah in the refrigerator. It keeps well for about 2 weeks. You can also freeze for a longer shelf life.
To increase the spiciness, you can add some more dry red chilies or even red chili flakes.
Adding dry mint will give a fragrant coolness to the duqqa.
Some dukkah recipes have also marjoram, zaatar and chickpeas added in it. You can choose to add these if you like.
Cool all the ingredients after they have been roasted. If you put them hot or warm in the grinder, then due to moisture they clog to each other and become paste like.
Explore with the seeds, nuts and spices and create the fusions and flavors you like.
Note that the approximate nutrition info is for the entire portion of Dukkah made from this recipe.
Nutrition Facts
Dukkah Recipe (Egyptian Nut and Spice Blend)
Amount Per Serving
Calories 1348 Calories from Fat 1026
% Daily Value*
Fat 114g175%
Saturated Fat 11g69%
Trans Fat 0.02g
Polyunsaturated Fat 35g
Monounsaturated Fat 63g
Sodium 1199mg52%
Potassium 1821mg52%
Carbohydrates 62g21%
Fiber 34g142%
Sugar 7g8%
Protein 48g96%
Vitamin A 177IU4%
Vitamin B1 (Thiamine) 1mg67%
Vitamin B2 (Riboflavin) 2mg118%
Vitamin B3 (Niacin) 10mg50%
Vitamin B6 1mg50%
Vitamin C 4mg5%
Vitamin E 37mg247%
Vitamin K 4µg4%
Calcium 1345mg135%
Vitamin B9 (Folate) 137µg34%
Iron 27mg150%
Magnesium 742mg186%
Phosphorus 1278mg128%
Zinc 11mg73%
* Percent Daily Values are based on a 2000 calorie diet.
This Dukkah recipe from the archives first published on September 2011 has been republished and updated on November 2022.
Source link