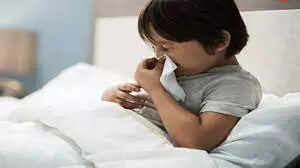 Chandigarh: Sudden change in temperature has led to a surge of patients with cough and cold reporting to city hospitals, with doctors pointing out that 40 per cent of OPD cases are of viral infections.
"We are coming across people with high-grade fever along with upper respiratory infection. This is due to the sudden change in the daily temperature," said a medical specialist at Government Multi-specialty Hospital, Sector 16.
While popping pills and other medication do give some timely comfort until the next bout, eating healthy food, reducing stress and getting enough sleep will boost the immune system can to fight off the cold and flu, said experts. Though there is no documented study on the post-Covid effect on the prevalence of such viral infections, a few experts said immunity has been affected after the pandemic.
"These infections have been happening whenever there is a change in the season and fluctuations in the temperature. But this time we are seeing high grade fever that has been continuing for more than a week," said a doctor at Government Medical College and Hospital, Sector 32. He said, "The patients are tested for typhoid and dengue. However, often these tests come out as negative."
A doctor said, "Those with co-morbidities like diabetes, recurrent pneumonia and respiratory illnesses should get flu or pneumonia shots." But flu shots are not recommended for healthy individuals. Pneumonia vaccines are also suggested for the elderly, which are given once in five years.
"Sneezing, nose-blowing, and nose-wiping are common means by which the flu virus spreads. One can easily catch the flu by inhaling the virus if you are sitting close to person who sneezes, or by touching your nose, eyes, or mouth after you have touched something contaminated by infected nasal secretions. So, wash your hands thoroughly with soap and water to avoid transmission of infection if you happen to touch an infected person," said a medical specialist at PGI.