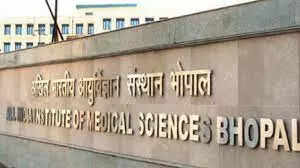 Bhopal: Gas victims who are cancer patients are not getting a consultation and procedures like chemotherapy and free of cost medicines at AIIMS Bhopal, despite an order of the MP high court.
The MP high court during the hearing of a public interest litigation (PIL) on the medical care of Bhopal gas victims in September 2021 directed that cancer patients among gas victims be provided free treatment at All India Institute of Medical Sciences (AIIMS). AIIMS administration issued an order more than a year later on December 4, 2022, for compliance of the court order.
The Supreme Court Monitoring Committee constituted to keep a tab on medical facilities being provided to gas victims, has also received complaints in this regard and is likely to take up the issue with AIIMS administration once chairman of the committee Justice, V K Agrawal, who is out of station as of now, returns to Bhopal.
In an interim order on September 6, 2021, the bench comprising the then chief justice of MP high court Mohd. Rafiq and Justice V K Shukla said "…It's directed that the free of cost treatment be provided to the victims of Bhopal gas tragedy who are suffering from any of the cancers in AIIMS, Bhopal, in the light of the recommendation made in the meeting convened by the additional chief secretary on June 17, 2021." After a silence of more than a year on the court directive, AIIMS administration on December 4, 2022, issued an order stating, "In compliance to the directives of the hon'ble high court of Madhya Pradesh, the Bhopal gas tragedy cancer victims/patients will be provided free of cost treatment of available services at AIIMS, Bhopal." The order further said that in order to facilitate these patients one dedicated OPD counter will be functional and one medical social service officer has been detailed for the coordination purpose with these patients.
But, what Shubham, son of a gas victim suffering from fourth grade breast cancer patient, faced at AIIMS, Bhopal, speaks of an entirely different story. When he arrived at AIIMS for chemotherapy of his mother, he was asked to come with a referral from the gas relief department, which he was refused and ultimately he had to shell out the fee as charged by AIIMS for chemotherapy for a cancer patient. He was also prescribed medicines, which cost something between Rs 6,000-8,000 in the market and he has not been able to purchase it yet, almost a week after the chemotherapy.
PRO, AIIMS, Bhopal, Dr Laxmi Prasad, when contacted in this regard, said "All the cancer patients among gas victims are being taken care of at AIIMS. It is our commitment, And, if somebody is refused treatment, he/she should contact the superintendent of the hospital, Dr Manisha Shrivastava". When asked Shubham said that he had met Dr Laxmi Prasad and he had also asked him to meet Dr Shrivastava but he was refused admission into her room by the guard and when he tried to talk to her over phone, she picked up the phone but said she would talk later as she was busy in a meeting.