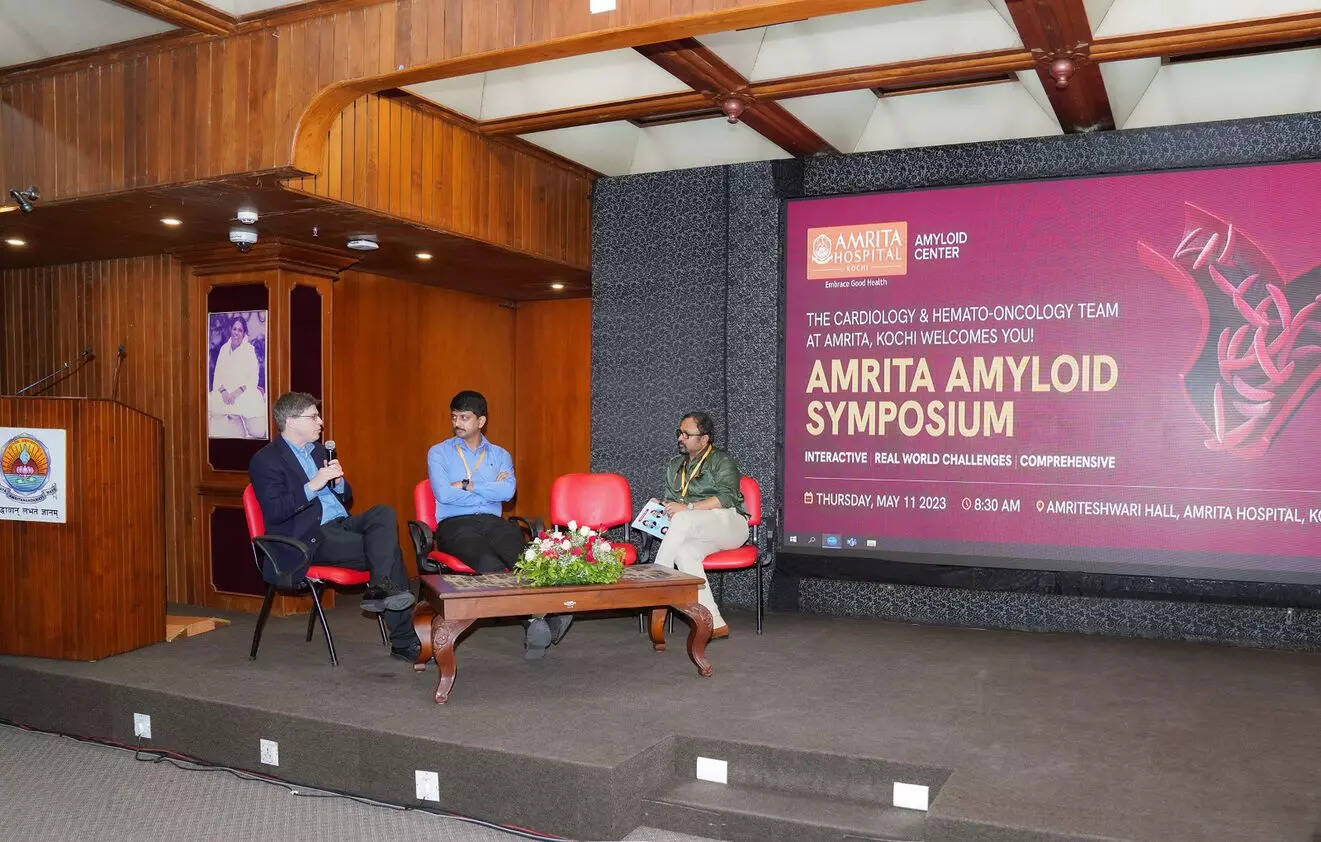 Kochi: India's first centre of excellence for the evaluation and treatment of patients with suspected or established amyloidosis was launched today at Amrita Hospital. Amrita Amyloid Centre will aim at bringing together a team of experts in various specialties to provide comprehensive care for all forms of systemic amyloidosis, including ATTR, AL, AA, and less common variants.
During the inauguration of the Amrita Amyloid Centre at the Amrita Amyloid Symposium, held recently, Dr Ron Witteles, Co-director, Stanford Amyloid Centre, said, "Amrita Amyloid Centre is a great opportunity to expand the reach of diagnosis and treatment of the disease. The time is now. Amyloidosis is still a very under-recognised disease. There are so many new diagnostic modalities, growing therapeutic options, and an explosion of clinical trials. It also has a multidisciplinary nature. In order to be able to deliver the best care, we need to work with different disciplines. The future is very bright as the outcome will continue to improve."
Amrita Hospital announced in its statement that as it celebrates its 25 years, Dr Hisham Ahamed, Department of Cardiology, Amrita Hospital, Kochi, observes that the launch is integral as the hospital continues to change the entire dynamic of healthcare delivery in Kerala and at large in India.
Amyloidosis is not as rare as it was once thought to be in India. As it is a multisystemic disease, patients often fail to get the right diagnosis at the right time, said Dr Ahamed, adding that "the major advantage of having a focused and dedicated advanced amyloid center of excellence is to have all of the expertise under one cohesive service. Thus, the patients can be treated in a structured and comprehensive way, similar to the dedicated Amyloid Centres in Europe and North America. Over the past three years, we have an active amyloid working group which is coordinated by haemato -oncology and cardiology. We have all the components to evaluate an amyloid patient or a suspected amyloid patient with a systematic multi-disciplinary evaluation. The process also involves reliably risk stratifying patients, aided by state-of-the-art investigational tools, which enable delivery of a standard of care."
Amyloidosis is a family of diseases caused by the misfolding, aggregation, and accumulation of specific proteins in tissues, resulting in abnormal protein aggregates known as amyloid deposits. In the past fourteen years, as per Amrita Hospital, approximately 150 people have been diagnosed with amyloidosis.
Considering the complexity of the disease, most of the patients receive treatment in its advanced stages. Early and accurate diagnosis, as well as timely intervention, can help achieve better patient outcomes. The Amrita Amyloid Centre claims to offer a range of clinical and investigative services, including detailed clinical assessment, comprehensive haematological investigations, advanced cardiac imaging facilities, technetium pyrophosphate scintigraphy, genomic testing, mass spectrometry facilities, chemotherapy, bone marrow transplantation, and state-of-the-art research facilities.