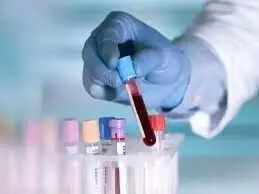 Noida: As doctors report a spike in patients with fever, cough and cold, the health department has started collecting samples from cold patients for influenza testing. The move comes after the medical and health services directorate on March 15 issued an advisory for preventing the spread of influenza.
Health officials at Child PGI, GIMS, and the Sector 30 district hospital are collecting the samples in Noida. In Ghaziabad, health officials at MMG hospital and the Sanjay Nagar District Combined Hospital are doing the work.
According to the advisory issued by the medical and health services directorate, there has been an increase in cases of influenza-like illness (ILI) and severe acute respiratory illness (SARI) across states. The letter also claimed that such cases have been rising since December 2022.
"We will send the samples collected to Meerut Medical College and KGMU (King George's Medical University), Lucknow to see which influenza virus has been infecting people. Since the influenza virus is present in the area, prevention entails the Covid protocols like wearing a mask, avoiding physical contact and consuming liquids in case of symptoms. Doctors' consultation is also a must," said Dr Amit Kumar, district surveillance officer in Noida.
Doctors said that a few days ago, government OPDs witnessed 50-80 cases of people with symptoms like fever, cough and cold, but the number is now 200 per day.
Doctors said that the influenza virus increases the intensity of infection caused by weather changes. They said most people who have been coming to the OPD over the past two months reported prolonged cough, cold and fever, or severe breathing trouble.
Dr Pankaj Chaudhary, senior consultant at the internal medicine department of Max Hospital in Vaishali, said, "The virus generally takes 3-5 days to show symptoms, and people must take preventive care by wearing face masks, social distancing, and avoiding antibiotics for mild fever, cough and cold."
Dr Rajpal Singh, physician at MMG hospital, said, "We are conducting testing of symptomatic patients and advising people to consume liquid to remain hydrated. Wearing a mask and avoiding close contact at crowded places will reduce the chances of infection and re-infection."
Doctors added that elderly people or people with asthma and other illnesses are more prone to infection.