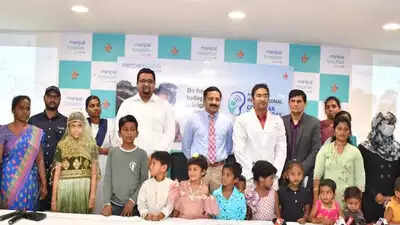 Vijayawada: Manipal Hospital in Vijayawada has accomplished yet another feat. It made history as the hospital that performed the most cochlear implantation surgeries in a single year.
Speaking to the media here on Friday, hospital director Dr Sudhakar Kantipudi said that they were the first in Andhra Pradesh to perform cochlear implantation surgeries. He said that more than 70 children got their speaking and hearing abilities back thanks to the success of cochlear implantation surgeries performed by expert team of doctors in the hospital. "It is the only hospital in the state that has performed over 70 cochlear implantation surgeries.
Furthermore, more than ten bilateral cochlear implant surgeries were performed under 2 to 3 years old children," explained Dr Sudhakar. ENT, Head & Neck Surgery, Dr V Venkata Krishna Sandeep said that they were privileged to be a part of a rare feat. He said that cochlear implantation treatment was provided free of charge to the children through the Chief Minister's Relief Fund (CMRF) and the Dr YSR Aarogyasri Health Scheme. He explained that over seventy children have been treated, and many have been cured and are now able to communicate.
Audiologist, Sridhar Jasti said that many kids were either deaf by birth and or have hearing issues. He said that it resulted in making them dumb. He said that cochlear implant surgeries brought them to normal. He suggested parents recognise any hearing issues in the children at the early age to address them early as delay would result in more complications.