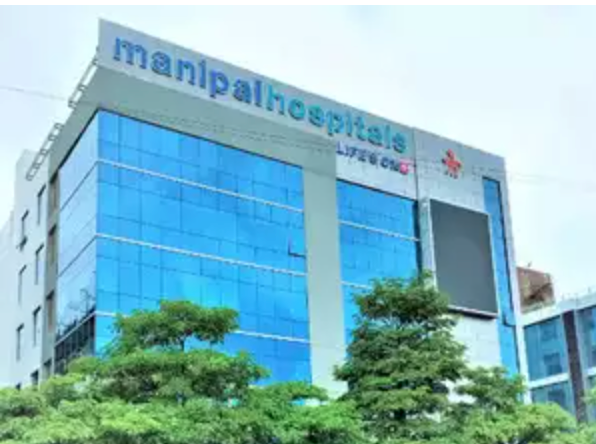 After prolonged negotiations and court battles, Manipal Health Enterprises has acquired Kolkata-based AMRI (Advanced Medical Research Institute) Hospitals in a deal worth ₹2,400 crore, said two people aware of the transaction. "Manipal will pay about 75% of the transaction now and the remaining will be paid after a year as per the agreement. Also, all the cases against (AMRI promoter) Emami Group have been withdrawn," said one of the people.
The buyout of AMRI will add another 1,200 beds to the Manipal group's hospital portfolio, taking its total number to about 9,500 beds and making it the largest hospital chain in India.
At present, it has nearly 8,300 beds across 28 hospitals. Negotiations between Manipal and Emami had started in 2018 and, last year, Manipal had agreed to buy AMRI for ₹1,800 crore. But the Kolkata-based Emami Group backed out from the agreement, causing Manipal to initiate arbitration proceedings.
In November, Manipal approached the Delhi High Court seeking to restrain the Emami Group from selling or transferring its stake in AMRI, to any third party or alter its management during the pendency of the arbitration proceedings.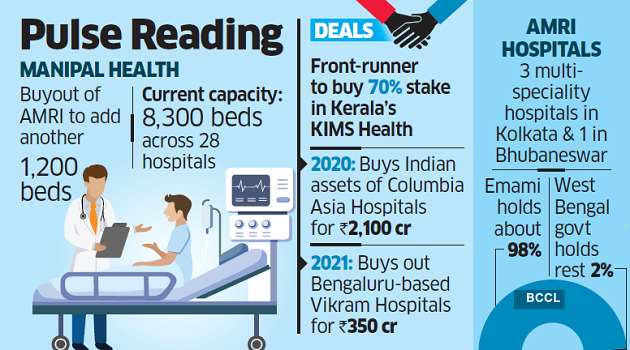 Now, both parties have reached a settlement whereby the value of the deal has been increased by 33%. Spokespersons for Manipal and Emami declined to comment.
Manipal is also the top contender to acquire an about 70% stake in Kerala Institute of Medical Sciences (KIMS) Health, a hospital chain in Kerala, from private equity investor True North.
AMRI is the third acquisition for Manipal in the last three years. In 2020, it acquired the Indian assets of Columbia Asia Hospitals for around ₹2,100 crore and in June 2021, bought out Bengaluru-based Vikram Hospitals from Multiples Private Equity for around ₹350 crore. AMRI operates 1,200 beds through three multi-speciality hospitals in Kolkata and one in Bhubaneswar. Emami holds about 98% stake in AMRI, while the West Bengal government holds the rest.
The deal will also make Manipal the largest private hospital operator in the eastern region, which also acts as a healthcare hub for Bangladesh, Nepal, Bhutan and the seven north-eastern states.
Manipal Health promoters are diluting about 15% from their 52% stake to Temasek Holdings. Temasek is increasing its stake in Manipal Health to about 51% from 18%, ET reported in January.