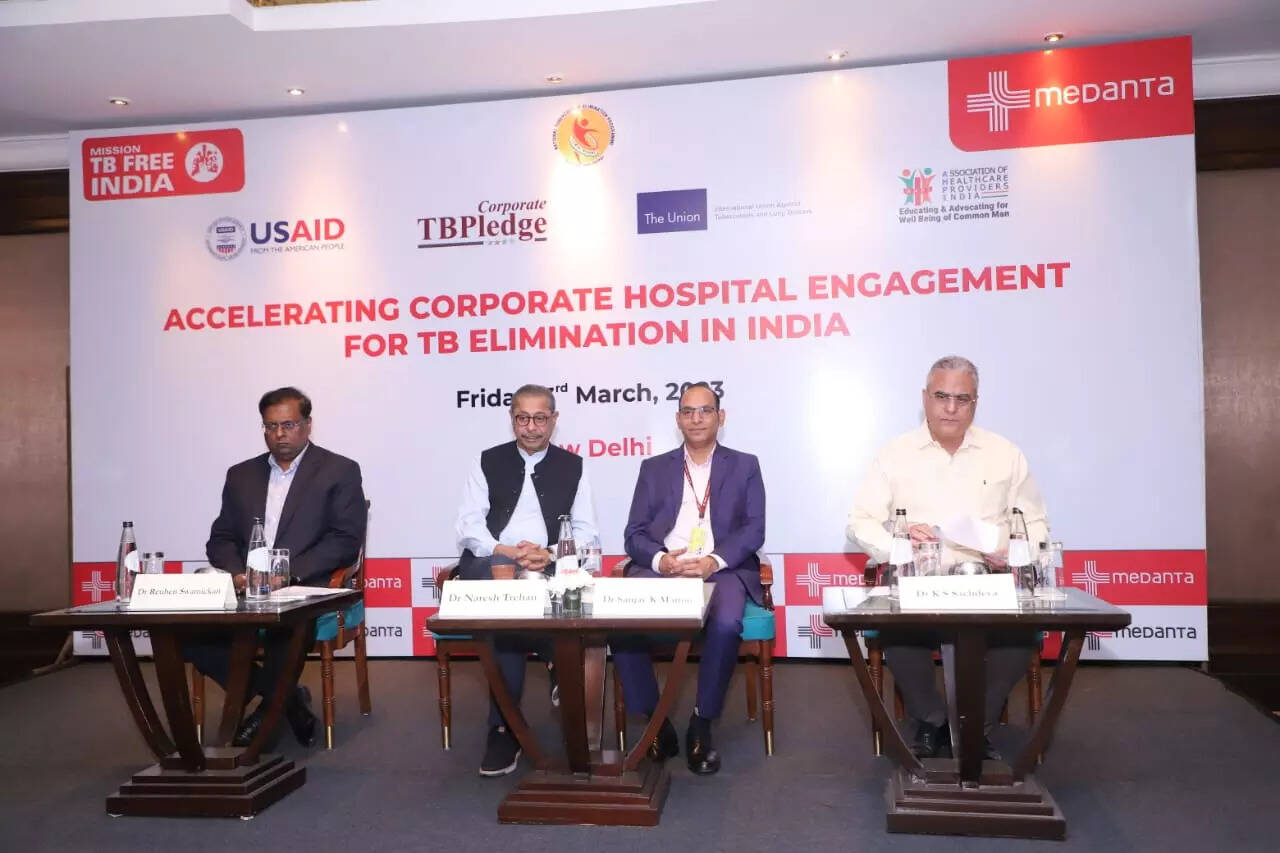 New Delhi: Aiming to expand the impact of Mission TB Free India, Medanta, in association with The Union, under the guidance of the Central TB Division, Union Ministry of Health and Family Welfare (MoHFW) organised a multi-stakeholder event engaging private hospitals and state health officials.
To galvanise private hospitals from across Delhi-NCR to contribute to the National Tuberculosis Elimination Programme (NTEP), and as part of the programme, deliberations were held with Apollo Medical College, Yashoda Super Specialty Hospital, Amrita Hospital, and stakeholders from a number of other hospitals. The stakeholders were encouraged to support the national initiative by adopting the 'Active Case Finding' model of TB detection.
Speaking on the occasion, Rajender P Joshi, Deputy Director General of the Central TB Division, MoHFW, said, "We have made significant progress in strengthening the infrastructure for TB treatment. However, we must recognise that to scale access to therapy, multi-stakeholder models through partnerships with private hospitals are the way forward. Collaboration with Medanta and other private hospitals is a great step towards achieving the national goal of TB elimination by 2025."
The objective of this engagement program is to encourage private hospitals to actively contribute to TB screening and assist the state in bridging the gap in TB care services. According to Medanta Group, this will further strengthen the robust NTEP that works to detect TB in unscreened population pockets and establish linkages between identified patients and government treatment services.
Emphasising detection and treatment, which play a crucial role in the prevention and management of tuberculosis, Dr Naresh Trehan, Chairman, and Managing Director, Medanta, Gurugram, said, "Currently, a vast majority of patients go undetected and untreated in India, significantly increasing the disease burden. The private hospital sector can play an important role in the prevention and treatment of TB by taking on a larger, more active role in screening. We are delighted to share our learnings with other private hospitals and scale the TB-Free initiative through widespread adoption of the cost-effective screening model developed by Medanta."
Medanta claims that using its active-case finding methodology, its community health workers and village-level grassroots health workers (ASHAs) regularly conduct door-to-door screenings to detect individuals at potential risk. For on-spot diagnosis, they use sputum analysis, a digital chest X-ray, and an artificial intelligence-based tool (Qure.AI), followed by a highly advanced confirmatory molecular-diagnostic test (GeneXpert).
All these diagnostic facilities are available in dedicated mobile vans that travel to villages as part of the mission. As per the hospital chain, confirmed TB cases are referred to government hospitals for the initiation of DOTS (Directly Observed Therapy Short) course therapy. The block-level screenings, being done as cluster randomised control trials, have defined an effective model for finding active cases. The initial results have been promising, as the team could diagnose 200 patients from four blocks of Karnal in just five months.
Towards the Pradhan Mantri TB Mukt Bharat Abhiyan, Rajender P Joshi, Deputy Director General of the Central TB Division, MoHFW, announced the private hospitals' engagement programme in the presence of Dr Naresh Trehan, Chairman and Managing Director, Medanta, Dr. Anand Jaiswal, Senior Director; and Dr Bornali Datta, Director, Department of Respiratory and Sleep Medicine, Medanta, Gurugram. The event was also attended by Dr Kuldeep Sachdeva, Regional Director for SE Asia, International Union Against Tuberculosis and Lung Diseases.