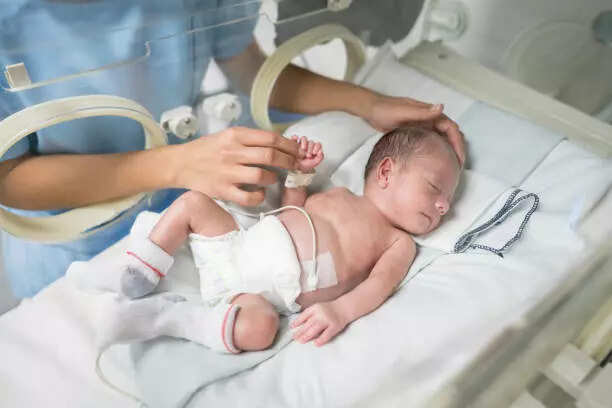 New Delhi: Motherhood Hospitals launched an innovative remote patient monitoring technology and system to provide virtual life-saving neonatal care to newborns admitted to nursing homes and hospitals in semi-urban and rural areas which do not have proper Neonatal Intensive Care Units ( NICU ).
"With state-of-the-art remote monitoring technology, critically ill newborn babies in remote areas can get access to the expertise of Motherhood's Neonatology Care Team round-the-clock. Many birthing facilities do not have access to on-site neonatal care and the NICU Live solution bridges this critical gap for preterm newborns or critically ill newborns, " a statement said.
The latest remote monitoring technology and a specialized digital solution can treat high-risk newborns admitted in distant NICUs. In the first phase Motherhood Hospitals have set up a Central Care Centre (hub) which is connected to five remote NICUs located in Anantapur, Hindupur, Madanapalle, Patna, and Hisar. The hub-and-spoke model is centered around full-time patient management and constant medical support.
Commenting on the new technology implementation, Vijayarathna Venkatraman, CEO, Motherhood Hospitals, said, "NICU Live is strengthening our mission of providing NICU care to the most distant parts of the country. With several newborns in rural and semi-urban areas needing immediate NICU care, this program aims to bridge the gap and make NICU accessible to all."
Adding to it Dr Prathap Chandra, neonatologist and paediatrician, Motherhood Hospitals, said, "With NICU Live, we can now expect shorter hospital stays, better ability to deal with critical cases, and happier outcomes. From a clinical standpoint, the pilot programme has been a revelation, we're able to simplify the entire process right from the admission to discharge. NICU Live's proactive interventions and guided emergency management will set benchmarks in neonatal care once we bring more hospitals into the programme."
"Motherhood's NICU Live remote neonatal care is built on 3.5mn km of optical fibre cable network on which data, images, and voice can travel seamlessly between the Care hub and the remote spoke to help save the lives of precious newborns. NICU Live virtual neonatology care network can potentially reach 1000 beds across the country over the next 5yrs and be a testament to the National Digital Health Mission (NDHM), " said, Vishal Bali, Executive Chairman, Asia Healthcare Holdings.