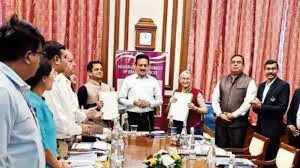 Nashik: The Maharashtra University of Health Sciences and IIT-Bombay, inked an MoU on Thursday to collaborate on various sectors to benefit medical as well as engineering students.
MUHS Vice-Chancellor Lt Gen Dr Madhuri Kanitkar (Retd), and IIT Bombay director, Subhasis Chaudhari, signed the memorandum of understanding in the presence of state medical education minister Girish Mahajan, state medical education secretary Ashwini Joshi, and director of state medical education and research Dr Dileep Mhaiskar.
Kanitkar told TOI the agreement would be a boon for students of medical colleges affiliated with MUHS and students of IIT Bombay. "MUHS and IIT Bombay will work closely for capacity building towards the digital health mission. The courses will be designed accordingly, and the faculties will be shared between the two," Kanitkar said.
MUHS will send selected undergraduate medical students to undergo a summer internship programme at IIT Bombay. This programme will begin in the forthcoming summer season.
"We will also have a exchange programme where students of biotechnology and bioengineering of IIT Bombay will visit our medical colleges. Similarly, our students will visit IIT Bombay," she said. IIT Bombay has a centre for innovation where MUHS will work with experts on innovations and startups in the health sector, she added.