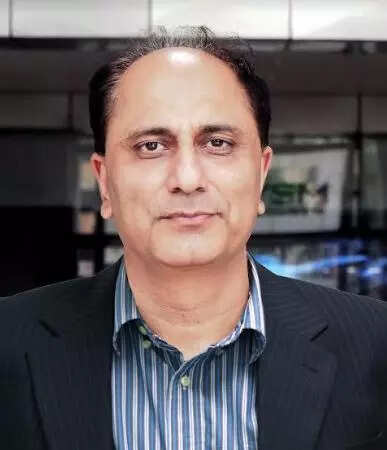 Sanjeev Malhotra, CEO, Centre of Excellence for IoT and AI, Nasscom in interaction with ETHealthworld's Rashmi Mabiyan Kaur elucidates on how digital technologies are changing the healthcare landscape in India. Edited experts:
The COVID pandemic has shown the world how crucial is the role of telemedicine and mobile health. What are your learnings?
Today, emerging technologies such as AI, IoT, ML are no longer just an innovative technology, but a strategic imperative to tackle the complex challenges evolving in the healthcare industry. In the last couple of years alone, India has made significant advancements in the way healthcare is delivered in the country. The impact that teleconsultation, online appointment bookings, readily available health information and access to specialists had on people was unprecedented.
India's healthcare market has grown 3X+ from $110 billion in 2016 to $372 billion in 2022. Rising incomes, selfcare awareness underscored by the pandemic, and more state-led health initiatives have been accentuated by cutting-edge healthcare technologies, from remote diagnostics, to robotic surgeries, and preventive healthcare analytics, driving enhancements in access and quality of national healthcare systems. Standardization and open access to healthcare data and the use of emerging tech such as AI on that data have rapidly accelerated.
However, due to the criticality of the sector, digital adoption in healthcare poses much higher challenges for solution developers. Innovators need to co-create, get accepted as the safest choice for users, be able to demonstrate value and scale, unlock real clinical value and at the same be future-ready. Lab-to-market time, strategies, and partnership models are important, and so is the identification of use cases that fit into this innovation construct.
How do you see the adoption of EHRs today? What are the challenges that exist?
The implementation of EHRs has become a crucial component in consolidating a patient's medical history by providing instant access to diagnosis details, treatment plans, allergies to medications, aftercare, lab test results, and other relevant information. While EHR systems in healthcare management software often appear seamless and intuitive, implementing a new system is a massive undertaking. Implementing an EHR is a costly and time-consuming endeavour. The process of choosing, implementing, and optimizing an EHR can consume a significant portion of the allocated capital budget.The vast amount of data contained in EHRs is easily accessible and shareable, making it vulnerable to cyber theft and hacking. Therefore, healthcare providers must prioritize reinforcing their cybersecurity systems to safeguard their patients' sensitive information from potential cyber breaches before adaptation.
How is Nasscom using IOT, AI and Health Analytics in its mission towards sustainable healthcare?
India is standing at the forefront of digital revolution. The world has already witnessed the success story of our country with the largest digital identity program, record adoption of digital payments and more recently, national vaccination program via CoWIN platform. Initiatives such as the Ayushman Bharat Digital Mission (ABDM) are further replicating the success of healthcare delivery that rides on collaborative efforts of the government and private sector, by building an equitable, accessible, and inclusive ecosystem.
Nasscom has played a key role in creating the collaborative ecosystems of domains and technology to drive co-innovation with larger enterprises, SMEs and start-ups focusing on emerging technologies like Artificial Intelligence, IoT, Robotics etc and its applications in the healthtech space. Nasscom CoE IoT & AI today possess an ecosystem of innovation where different stakeholders like governments, and enterprise partners find their problem statements on one hand and with startups/tech players on the other hand to find suitable solutions to the problems. This allows us to bring innovative solutions to unique problems being faced by different stakeholders, apart from providing opportunities to startups to showcase their solutions/technical capabilities and generate business.
Some of the areas where startups enrolled with Nasscom CoE have developed solutions using 3D imaging to help neurosurgeons for surgery, voice-based EMR which will allow doctors or medical practitioners to create a medical record by just dictating it. These are just some examples where emerging technologies are being used to create real-world impact.
Do you see ChatGPT bringing in improvements in the healthcare systems?
While we are still just scratching the surface when it comes to Generative AI and are yet to witness the actual impact of these applications, there is no denying the wonders AI can do in automating diagnosis, decreasing physician workload, and even creating accessible healthcare in remote areas and villages. The world and especially a strong nation like India has immense opportunity to leverage emerging technologies & AI in a way that amplifies the advantage of its strengths.
Recent reports suggest that the Gen AI platforms have now been able to identify a new drug for a novel target for the treatment of the most common form of primary liver cancer, hepatocellular carcinoma. These breakthroughs are just a few examples of how generative AI is revolutionizing drug discovery and have the potential to transform healthcare in the coming years. India can accelerate the roadmap for making annotated India-specific data sets available for advancing AI research and solve for its health, education, and other societal challenges by working closely with the private sector and various academic institutions.
However, at the same time, we will have to be cautious of the potential risks and ethical implications that these technologies may have as AI systems become more sophisticated. While we still have a lot to learn, finding a balance between innovation and responsible regulation will be the key to harnessing the potential of AI for the betterment of society.

Post the COVID pandemic, the life sciences sector has been witnessing rising cyberattacks. How do you view this situation, and how is Nasscom working towards this?
The rise of digital health and technology-driven care delivery has increased the risk of cyber-attacks and security breaches in the healthcare system. As more and more healthcare organizations move towards digitalization, the risk of cyberattacks becomes higher. With the significant increase in data breaches in the healthcare segment, the focus on healthcare cybersecurity is expanding with new areas for investment.
Cybercriminals are constantly seeking opportunities to gain access to health data, especially when many consider healthcare institutions to be soft targets. Nasscom along with Data Security Council of India (DSCI) is working with various institutions to sensitize the need to safeguard their data by investing more in technology innovation and adopting holistic cyber security measures. Steps like – integrating security into medical devices, security in the development and deployment of applications, data-centric security approaches, spreading awareness and training on cybersecurity measures, regular assessment of threats, and sharing information to mitigate them, could help the sector create a shield and to minimize the impact of cyber threats.
The CoE is also focusing on fostering innovation in cybersecurity through various programs and initiatives, including training sessions, workshops, and hackathons. These programs help healthcare organizations and technology companies to stay up-to-date with the latest cybersecurity trends and technologies, and enable them to develop effective strategies to prevent cyberattacks.
What technology-driven factors are going to play a crucial role in changing Indian healthcare in the next 5 years?
One of the major trends is the adoption of multi-experience consumer engagement technologies such as AI, IoT, and Blockchain. These technologies can help healthcare professionals provide personalized care, improve patient engagement, and enhance operational efficiency.
Another significant development will be the amalgamation of AI with other technologies such as 5G, which will have the potential to revolutionize healthcare delivery. With remote patient monitoring enabled by wearable devices connected to 5G networks, patients living in remote areas or the elderly can be monitored in real-time, enabling healthcare professionals to manage their conditions more effectively.
5G networks can also help ensure healthcare equality by reducing patient burden in remote areas and enabling two-way HD virtual consultations, lowering the cost of physical appointments. Video-enabled medication adherence can also help elderly and mentally ill patients remember to take their prescriptions and augmented reality and virtual reality can assist visually impaired individuals in daily life tasks.
In addition, advanced deep learning technologies such as AI and machine learning have accelerated the digitization of the healthcare industry. AI-powered systems can analyze vast amounts of data, including medical records and diagnostic imaging, to identify patterns and make data-driven treatment recommendations. This can lead to improved healthcare outcomes for patients, as well as more efficient use of healthcare resources.
Lastly, the use of 3D printing technology in healthcare is on the rise. The technology is being employed to create dental implants, prosthetics, and replacement joints, among others. In the future, it could even be used to manufacture skin tissue, organs, and medication. 3D printing significantly speeds up production processes, leading to reduced costs compared to traditional manufacturing methods. These technological advancements are poised to transform the Indian healthcare industry in the coming years.