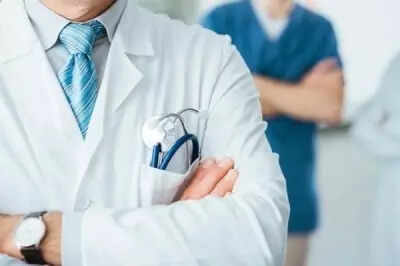 Guwahati: In view of the surge in COVID-19 cases in many states of the country, the authorities of Guwahati Medical College and Hospital (GMCH) said on Wednesday they were fully prepared to deal with any situation.
Dr Abhijit Sarma, Superintendent of GMCH told that they are fully prepared to deal with any situation.
"The government is very proactive on COVID-19 and the government is monitoring the surge in COVID cases. We have been alerted. GMCH has treated the highest number of COVID cases in the country. We are prepared," Dr Abhijit Sarma said.
He further said that 100 beds are currently reserved for COVID-19 patients.
"We have set up a COVID Intensive Care Unit. Presently, a few cases of COVID-19 are being reported in the state. Our doctors are well-trained to treat COVID patients," Dr Sarma said.
He requested that people wear masks, sanitise their hands and avoid crowded places.
A total of 4,435 fresh COVID-19 infections were reported across the country in the last 24 hours, a significant jump from Tuesday's tally of 3,038 cases, according to the Union health ministry data updated on Wednesday.
It is the highest single-day rise in the last nearly six months, the ministry said.
India's active COVID caseload currently stands at 23,091 with a daily positivity rate of 3.38 per cent, the ministry said
The COVID-19 cases in India have seen an upward trend in the past few days with the daily fresh infections ranging between 2,994 on April 1 to 3,824 on April 2 and 3,641 on April 3 and 3038 on April 4.
With 2,508 recoveries in the last 24 hours, the total number of recoveries stands at 4,41,79, 712. India's recovery rate currently is at 98.76 per cent, the union ministry further stated.
Under the Nationwide Vaccination Drive, India has so far administered 220.65 crore COVID vaccine doses of which 1,979 doses were administered in the last 24 hours.
The ministry further stated that the weekly positivity rate currently stands at 2.79 per cent.
In the wake of rising COVID-19 cases in India, Union Health Minister Mansukh Mandaviya on Monday said that Omicron's sub-variant which is circulating in the country has not led to an increase in hospitalisations and there is no need to worry.
"We need to remain alert but there is no need to worry. Currently, the sub-variant of Omicron which is circulating in the country hasn't increased hospitalisations," Mandaviya said.
The Ministry of Health and Family Welfare has issued revised guidelines for COVID in the wake of the surge of cases in the past week across the country.
"Antibiotics should not be used unless there is clinical suspicion of bacterial infection. The possibility of coinfection of COVID-19 with other endemic infections must be considered. Systemic corticosteroids are not indicated in mild disease," revised guidelines said.
"Seek immediate medical attention if difficulty breathing, High-grade fever/ severe cough, particularly if lasting for more than 5 days. A low threshold is to be kept for those with any of the high-risk features," guidelines discussed and prepared in January said.
Additionally, in moderate or severe diseases at high risk of progression, the guidelines recommend, "Consider Remdesivir for up to 5 days (200 mg IV on day 1 followed by 100 mg IV OD for the next 4 days)".