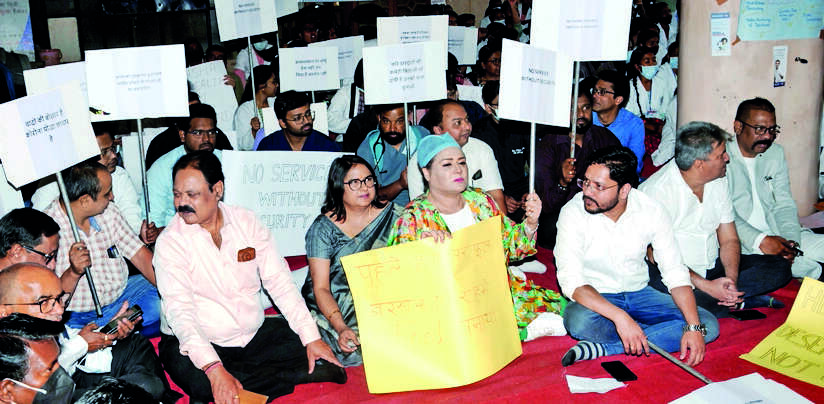 Ranchi: Doctors in Ranchi and across Jharkhand shut the out-patient department services (OPD) at government run and private hospitals on Wednesday to protest the recent incidents of violence against doctors across the state.
Health services remained partly affected in the medical colleges, district hospitals, sub-divisional hospitals and primary and community health centers and private clinics, nursing homes and hospitals as OPD services remained suspended since morning.
Doctors rallied under the banner of Indian Medical Association (IMA) and gathered in different locations to vent their ire. In Ranchi, the doctors gathered at the Rajendra Institute of Medical Sciences (Rims) with banners, posters and raised slogans demanding the implementation of the Medical Protection Act (MPA).
"Today's 24 hour strike was applicable to OPD services only. Emergency and indoor services functioned as normal as we did not want to jeopardize the health of our patients," Dr. Pradeep Kumar Singh, secretary of the Jharkhand chapter of IMA, told TOI in the evening. "Today's Bandh was a success as OPDs across the state remained closed," he added. Singh said: "Today, we renewed our demand to the state government for bringing in a medical protection bill which would safeguard the safety and interests of medical institutions from vandals. Our further course of action will be decided by the executive committee of the state IMA."
The protests, doctors said, were finalized following the recent attacks of doctors which took place in Garhwa, Lohardaga, Petarwar, Hazaribag, Jamtara and Ranchi within a fortnight. Besides the medical protection bill, doctors are also demanding the arrest of the assailants of the doctors. The doctors' strike added to the woes of hundreds of patients who arrived at Rims and Ranchi Sadar hospital since morning for their scheduled and unscheduled appointments.
"I travelled from Garhwa overnight with my father to see his doctor in the morning. But then, I came to know that the OPD will remain closed as the doctors are on strike. I will spend the night at the Rehan Basera (night shelter) on Rims compound and leave tomorrow after his check-up," Yasin Ansari, the elder son of Yakub, a 54-year-old psychiatric patient from Garhwa, said.