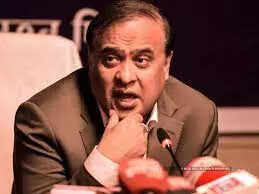 Guwahati: Prime Minister Narendra Modi may inaugurate AIIMS Guwahati campus on April 14, Assam CM Himanta Biswa Sarma said after reviewing the progress of work of the institute at Changsari, on the outskirts of the city, on Thursday.
Sarma told the media that 84 per cent of the construction work has been completed and the institute is ready for inauguration. The foundation stone of was laid by Modi on May 26, 2017. The outpatient department (OPD) services in AIIMS, Guwahati, have already become functional since October last year.
"It's our great privilege that Adarniya PM Shri Narendra Modiji will soon inaugurate AIIMS Changsari, which will give a huge boost to healthcare in North East. Reviewed the status of its various infrastructure facilities including OPD, auditorium, waste disposal, and connecting roads," Sarma tweeted.
Sarma said the government is considering the possibility of inauguration of the institute on the same day when Modi will be in Guwahati to witness the state government's effort to script Guinness World Record with over 10,000 Bihu dancers performing together at the Sarusajai Indoor Stadium in Guwahati.
"By April 14, the in-patient department (IPD) will start with 150 beds. Three batches (200 students) are studying in AIIMS Guwahati. In April-May, the fourth batch will get admission," Sarma said.
Prof. Ashok Puranik, executive director at AIIMS Guwahati, said efforts are in full swing for the inauguration. "Both the targets of producing expert doctors and serving the people with best healthcare will be achieved. From April 15, 150-bed IPD, day care surgery and emergency management will be done," Puranik said.
He added that 18 departments are operational but the target is to complete 28 departments. Medicine, orthopedics, surgery, psychiatry, pediatric surgery, gynecology and cardiology among other vital departments are already operational, he said.
Puranik added that laboratories, too, have been set up. "Our target is to build a 750-bed hospital here. It will take two years' time to make the entire capacity operational," he added.