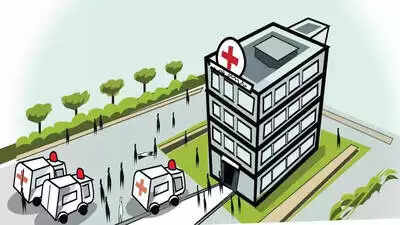 Kolkata: Post-adenovirus complications among children are increasingly mirroring post-COVID complications, with many kids returning to hospitals with a persistent cough, wheezing, shortness of breath and fatigue. The condition – called PIBO or post-infectious bronchiolitis obliterans – is more common in children who suffered a severe adenovirus infection that necessitated critical care at hospitals.
An uncommon and severe chronic obstructive lung disease, PIBO can haunt children till their adulthood, say doctors. Also known as popcorn lungs and constrictive bronchiolitis, it is caused by obstructions in the smallest airways of the lungs due to inflammation.
The Institute of Child Health, Kolkata, which has treated around 90 children with adenovirus in about two months has now started getting PIBO cases. "So far we have treated 10 children with symptoms of PIBO that they developed after the adenovirus infection. These are mostly children who needed PICU (paediatric ICU) treatment," said Prabhas Prasun Giri, associate professor and PICU in-charge at ICH.
Currently, PICU wards in almost all hospitals are overwhelmed with children suffering from respiratory diseases, mostly caused by adenovirus. Since a large number of children this year have acute infection, paediatricians fear more kids will come back with PIBO in the coming days.
"Children who were on prolonged oxygen support or mechanical ventilation are at higher risk of developing PIBO. This condition affects the pulmonary and bronchial parenchyma where the structure gets narrower or dilated causing a surge in cough," said Mihir Sarkar, professor of paediatrics at Medical College Hospital, Kolkata.
Health experts say an unusually high number of children have been afflicted with adenovirus this season and the severity of the infection too has been higher. Serotyping done at ICMR-NICED has found a recombination of adenovirus type 7 and 3 in majority of the samples.
Besides adenovirus, which is the most virulent of respiratory viruses, other respiratory viruses may also cause PIBO post infection. The symptoms include dry cough, shortness of breath and wheezing that can get progressively worse over weeks and months causing incapacitation. In few cases it can even lead to progressive lung disease and fatality.