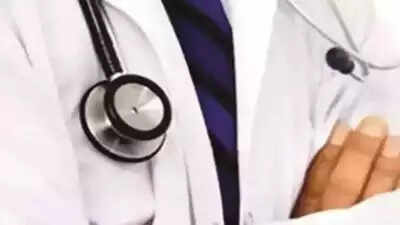 Jaipur: The joint action committee (JAC) of doctors' associations opposing the Right to health Bill has threatened complete shutdown of private healthcare facilities on February 11, the day on which the select committee constituted by state assembly will meet agitating doctors to make an effort to resolve issues related to the Bill. The agitating doctors' associations have started protesting against the Bill across the state by submitting memorandums to public representatives.
Different doctor bodies of the state have formed a joint action committee which include doctors from government and private sectors.
The health department has shown its intent in solving the issues by announcing that private hospitals would be paid for treatment of patients at emergency units.
"We are not against right to health, but we are against Right to Health Bill. Today, our doctors met public representatives across the state. We have made it clear that we do not want Right to Health Bill to be presented again in the state assembly," said Dr Sunil Chugh, chairperson, joint action committee formed by different doctors' associations of the state.
He alleged that through Right to Health Act, the government is attempting to bring inspector raj in private hospitals. Announcing complete medical bandh for 24 hours, he said from 8 am on February 11 till the next 24 hours, all private hospitals and clinics will remain closed, including emergency.
JAC has also given a call to all doctors of the state to travel to Jaipur to intensify the protest. The doctors who will meet select committee on February 11 include Dr Sudhir Bhandari, vice-chancellor, RUHS, Dr Lakhan Poswal, president, pediatric association, Dr Sunil Chugh, president, Indian Medical Association, and doctors of private hospitals including Dr Satish Jain, Dr Sunil Kumar Garsa, and Dr Lalchand Dhaka.