Sabudana khichdi is one of the most popular fasting dish that is made with sabudana pearls, boiled potatoes, roasted peanuts and a few spices. It is usually made during Hindu fasting days like Navratri or Mahashivratri or Ekadashi. I share a Maharashtrian-style recipe of a perfect non-sticky sabudana ki khichdi that I have been making for decades.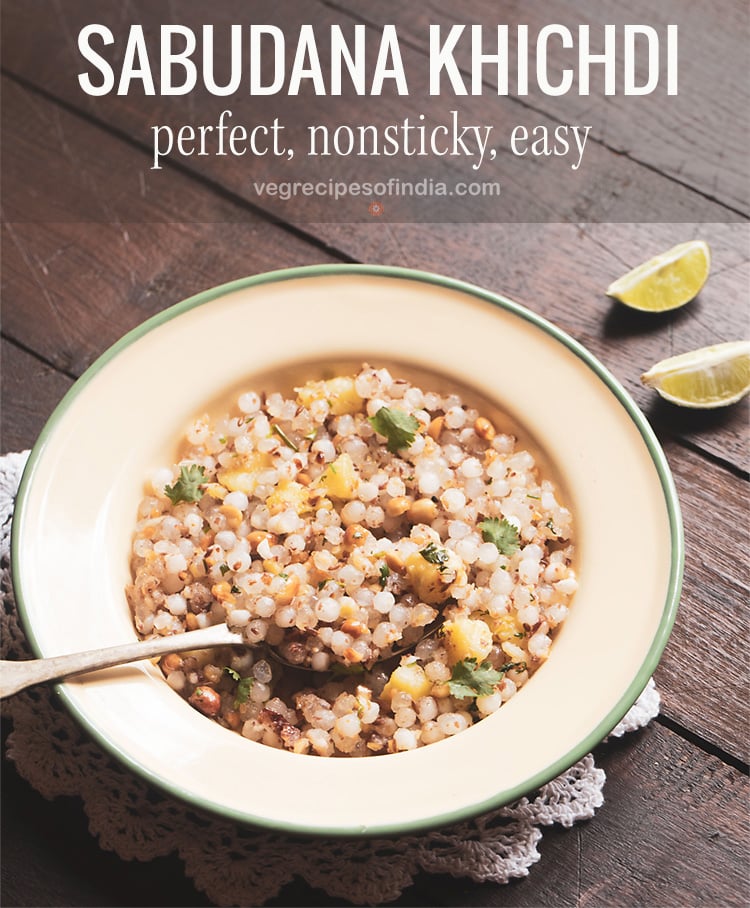 About Sabudana ki Khichdi
Sabudana also known as sago or tapioca pearls are made from the roots of the cassava plant. Another name for this plant is tapioca or yuca.
This is an easy and tasty snack and a good recipe to be made during fasting days but it requires little experience to make a khichdi in which the sabudana pearls are not sticking or have become lumpy.
When you make the sabudana khichdi, you have to adjust the soaking time as per the type of tapioca pearls. For some pearls 2 to 3 hours is fine.
Just cover the pearls with water for some time and you are done. So do soak the sabudana pearls accordingly. I have mentioned in the steps below on testing the soaked sabudana pearls.
In this step by step version of sabudana khichdi, I am showing the overnight soaking method. However, please feel free to adapt the soaking time as per the quality of tapioca pearls you have.
This sago khichdi is a snack that I have grown up having umpteen times. It is loaded with carbohydrates and the proteins coming only from peanuts. Sabudana is rich in carbs and hence this dish makes for a filling snack.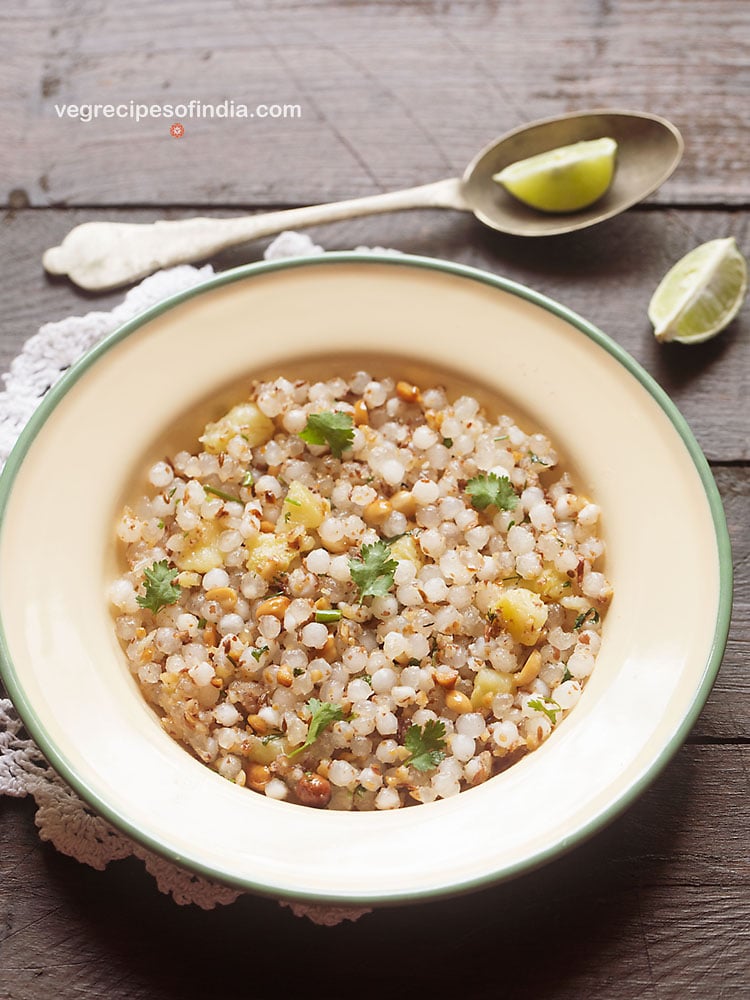 Step-by-Step Guide
How to make Sabudana Khichdi
Soaking Sabudana
1. Rinse 1 cup Sabudana or tapioca pearls a couple of times in running water until all the starch is washed away. You can use a colander while rinsing. Soak the sabudana in water. The water level can be 1 to 1.5 inches above the sabudana.
In the below picture, the sabudana pearls are already soaked. depending on the quality of sabudana pearls you can soak them overnight or for some hours. I always soak them overnight since even after soaking them for 2 to 3 hours, they don't soften.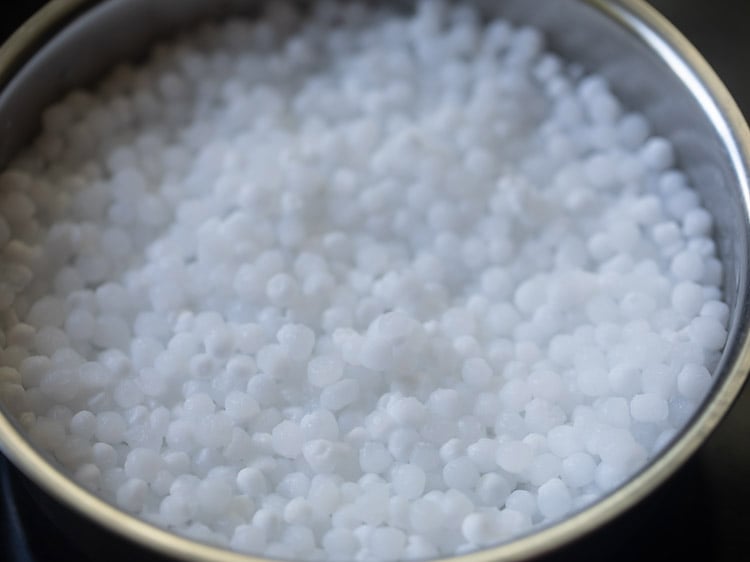 2. To check if the sabudana has become soft or not, you should be easily able to press the sabudana and it should get mashed up easily.
If there is some hardness in the center of the sabudana pearls, then add a few tablespoons of water in the bowl. Cover and leave for 30 minutes more.
Note that the pearls have to be softened thoroughly. If the center is hard the khichdi will not have a good texture as sabudana will not cook well.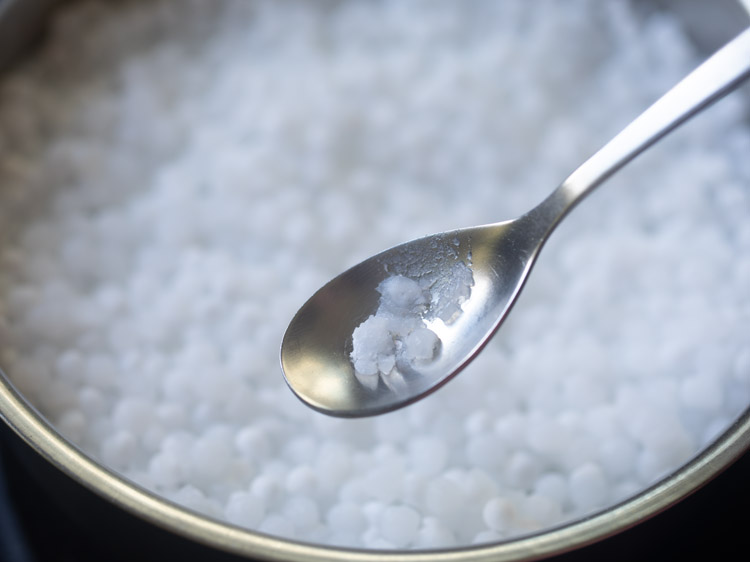 3. Using a strainer or colander strain all the water from the sabudana pearls well. Do strain very well as there should be no extra water in the sabudana. Keep aside.
Remember to drain the water really very well. Any water in the sabudana will make your khichdi mushy or pasty.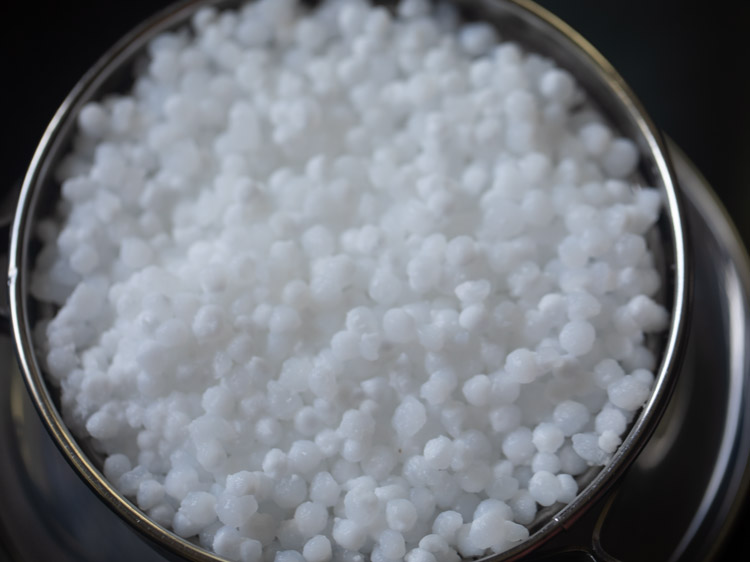 Cooking Potatoes
4. When the sabudana pearls are getting soaked, you can boil potatoes in a pan or in a cooker and keep aside. For pressure cooking, just add enough water covering the potatoes and then pressure cook for 4 to 5 whistles on medium flame.
You can also steam the potatoes in an instant pot adding required amount of water.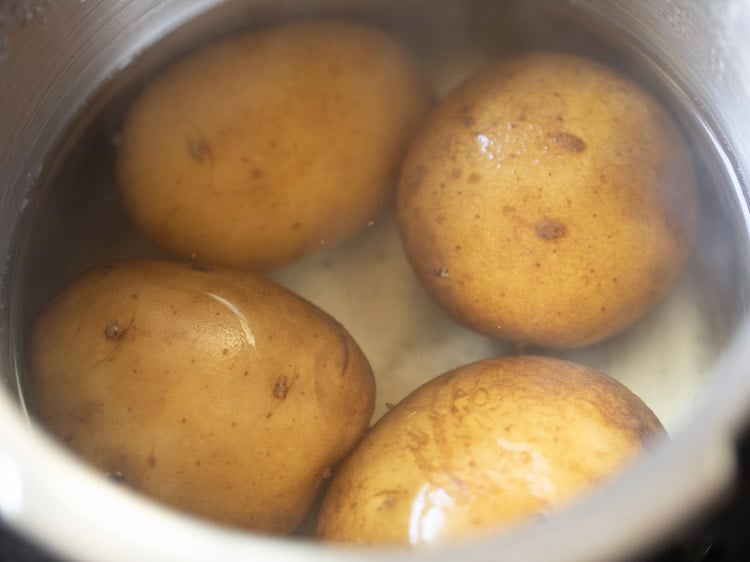 5. When the pressure settles down on its own, open the lid. Remove the potatoes and let them become warm or cool completely. Then peel and chop them.
Instead of boiling potatoes, you can even shallow fry potatoes and then add them to the sabudana khichdi.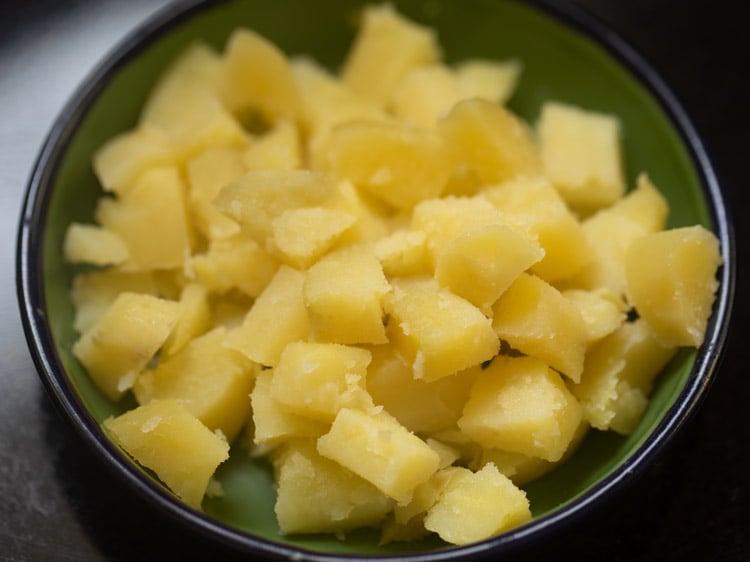 Making Peanut Powder
6. Heat a kadai or a frying pan. Add ½ cup peanuts (moongphali).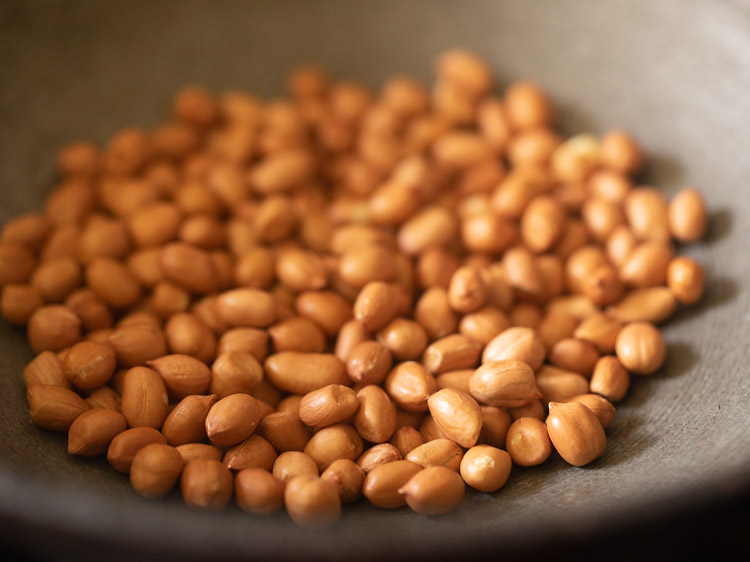 7. Keep flame to medium-low and stirring often roast the peanuts.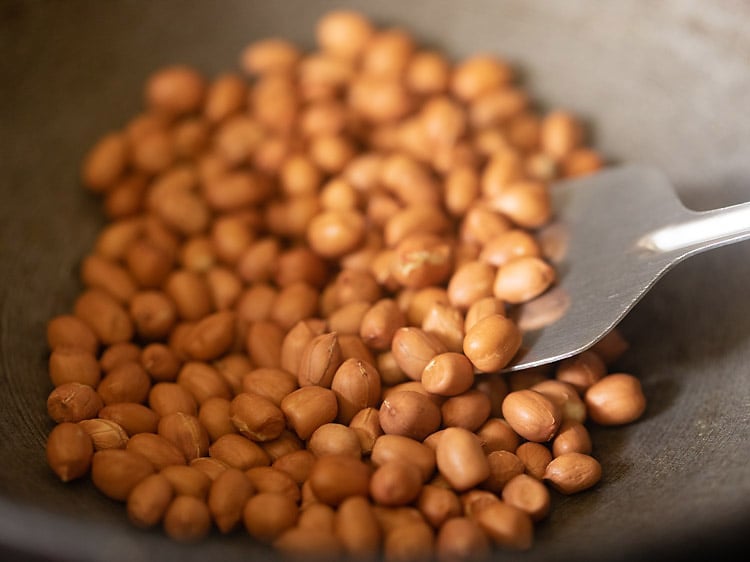 8. Roast till the peanuts become crunchy. You will see the peanut skins getting browned or charred.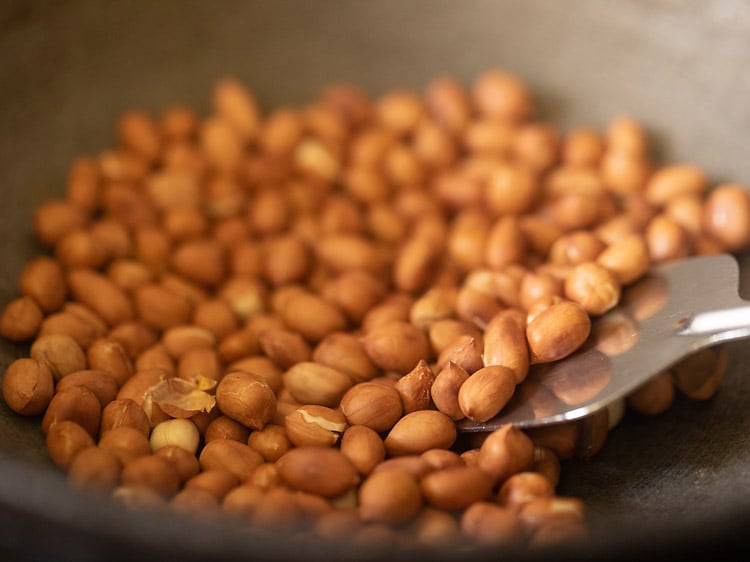 9. Switch off the flame and keep the peanuts aside to cool. You can remove the peanut skins if you want.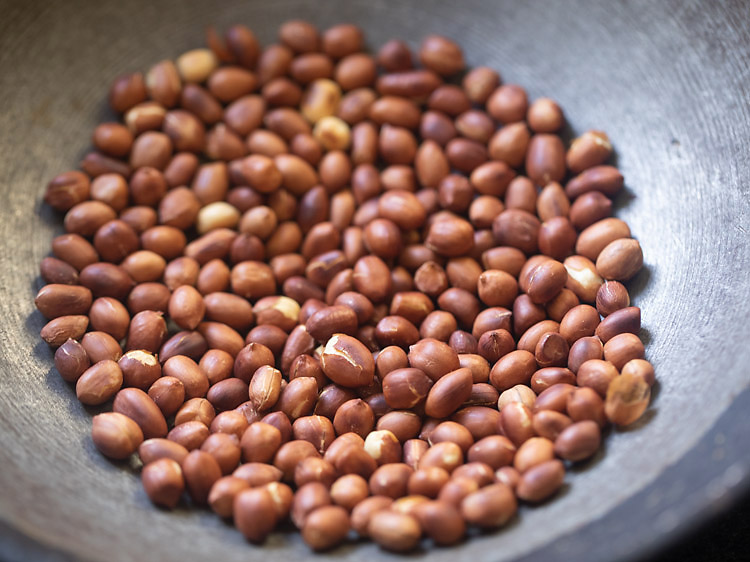 10. Add the cooled roasted peanuts in a small grinder jar or blender.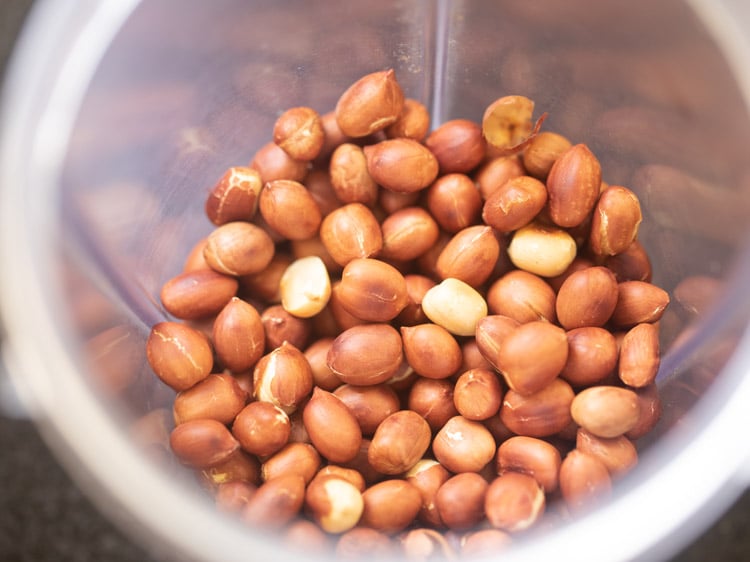 11. Using the pulse option powder the peanuts coarsely. Do not grind at a stretch as then the peanuts will release oil.
Grind in parts and for a few seconds as we just need to make a coarse or semi-fine peanut powder. You can even coarsely powder the peanuts in a mortar-pestle.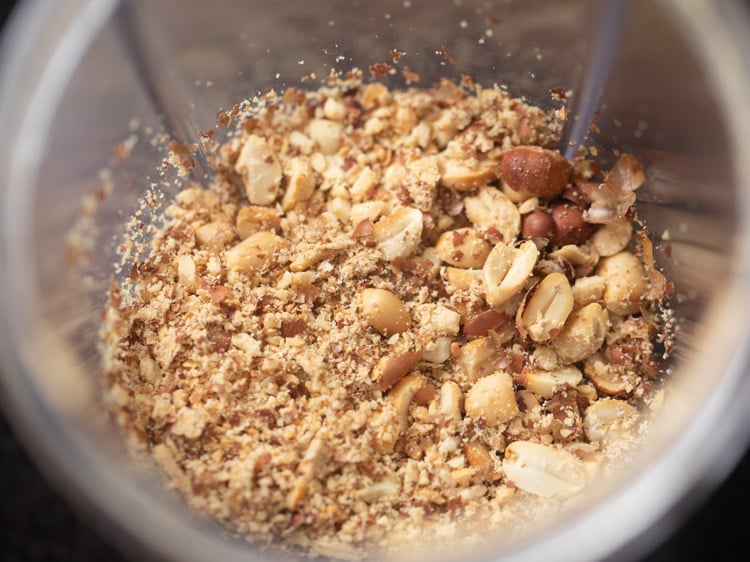 12. Take the sabudana pearls in a mixing bowl or a plate or tray. Then add the peanut powder in the bowl containing sabudana.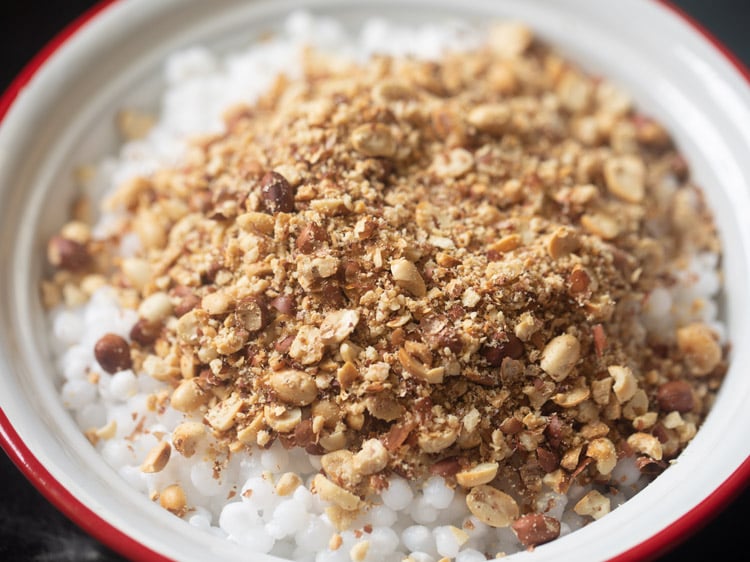 13. Also add edible rock salt (sendha namak) as per taste and ½ to 1 teaspoon sugar.
In fasting food we use rock salt. If making this dish on regular or non-fasting days then you can swap rock salt with regular salt.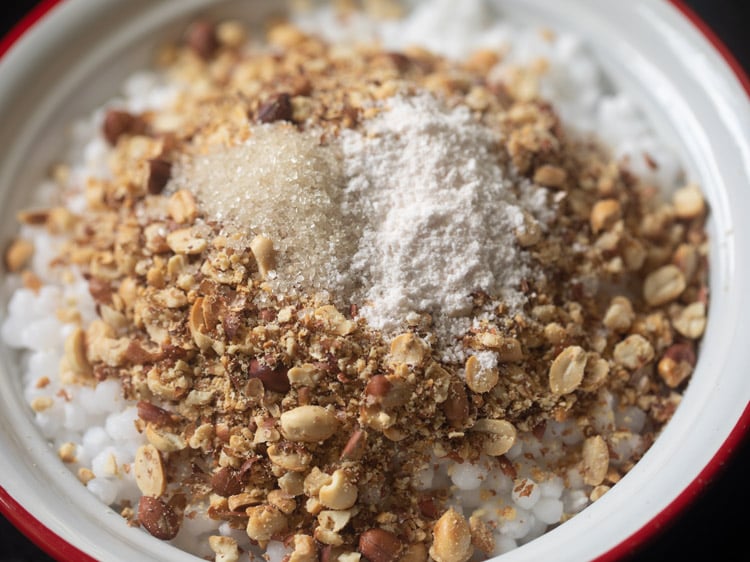 14. Mix very well with a spoon.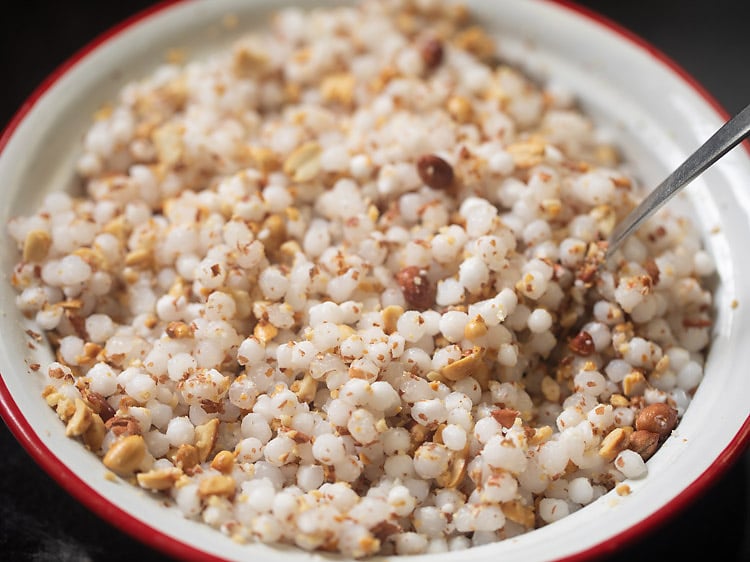 Making Sabudana Khichdi
15. Heat 3 tablespoons peanut oil or ghee in a heavy kadai or pan.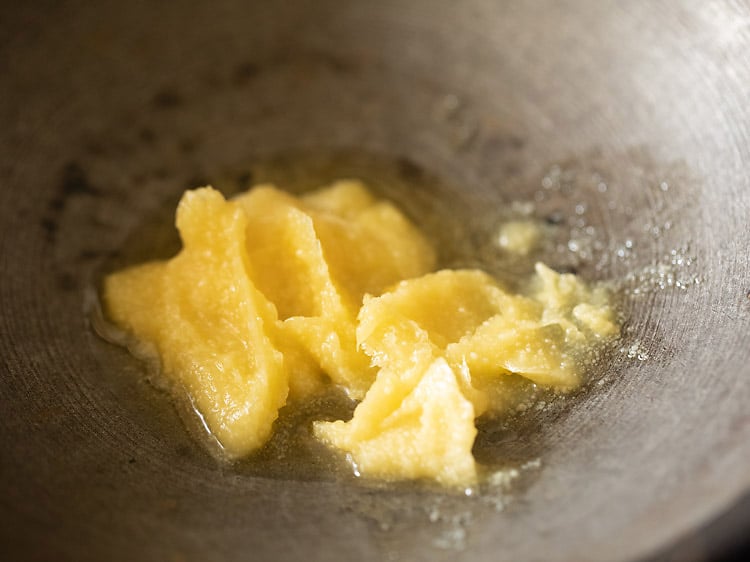 16. Add 1 teaspoon cumin seeds.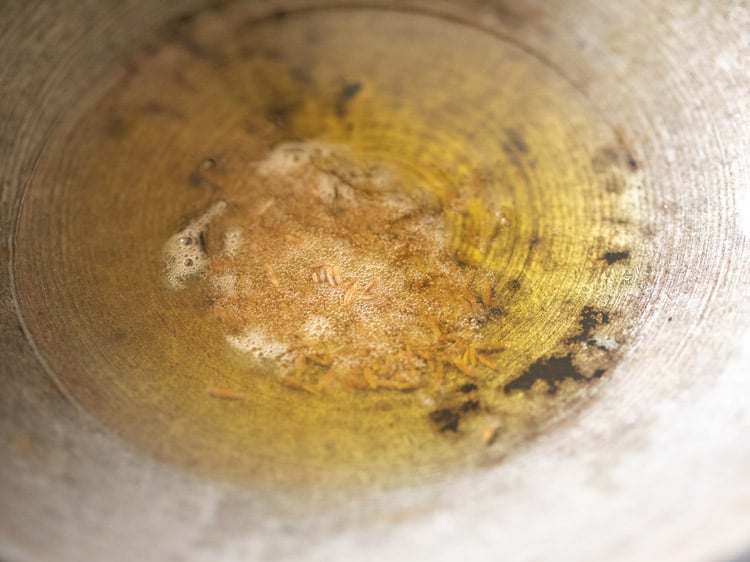 17. Let them crackle and get browned.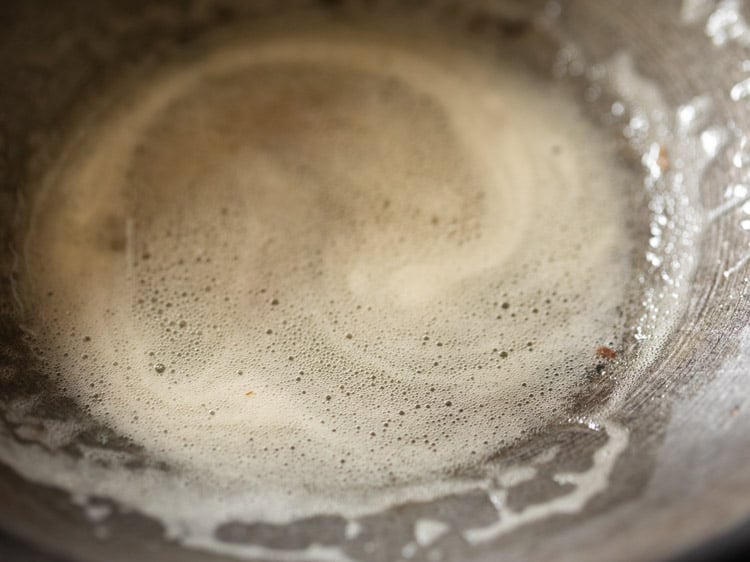 18. Then add 1 chopped green chilli.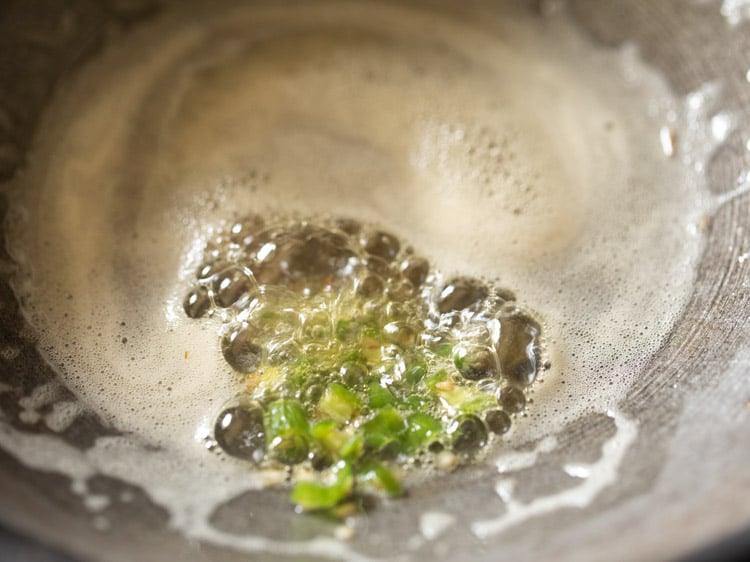 19. Fry for a few seconds on medium-low flame.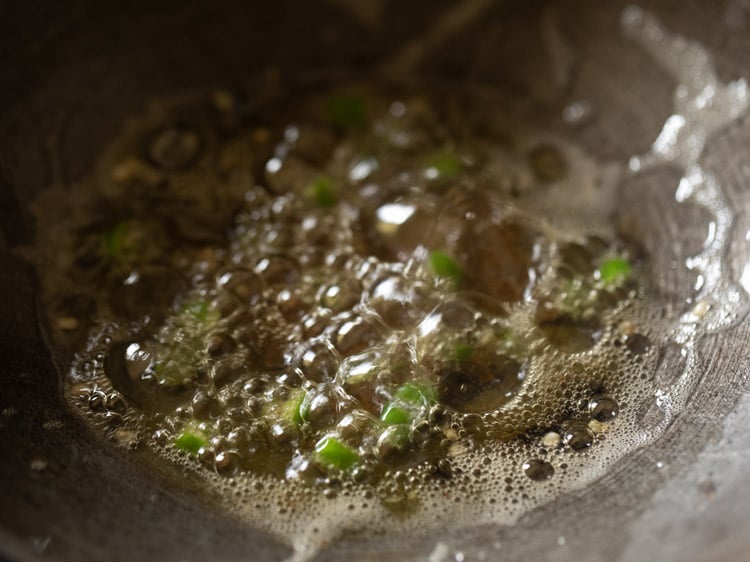 20. Now add the chopped boiled potatoes.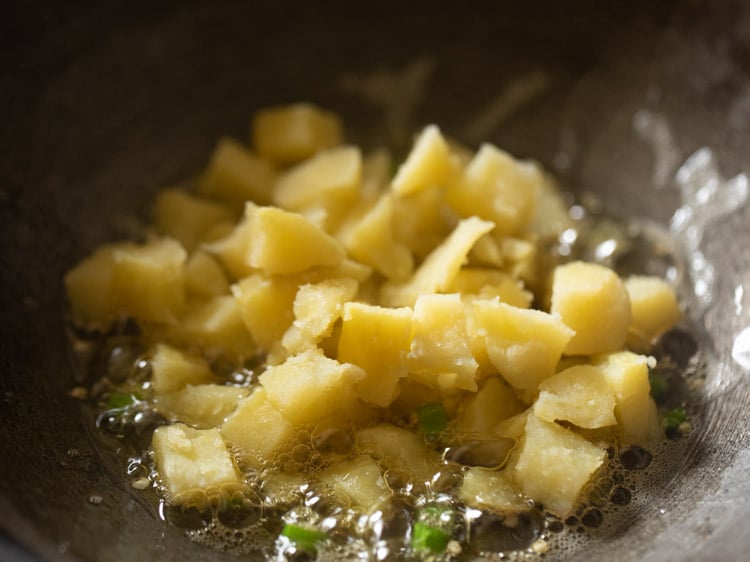 21. Mix and saute for a minute on medium-low flame.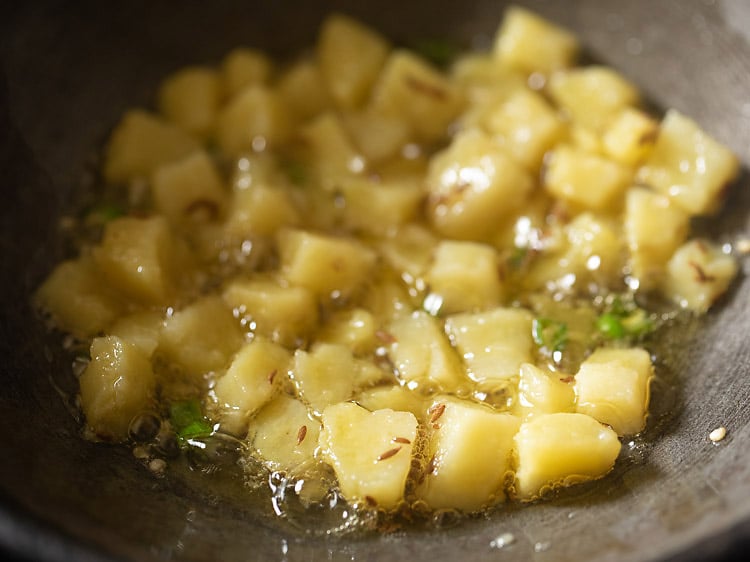 22. Next add the sabudana + peanut powder mixture.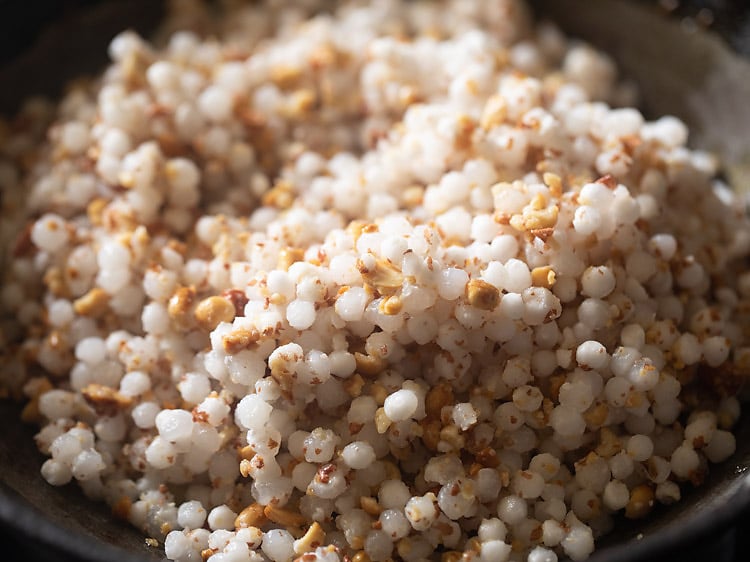 23. Mix very well.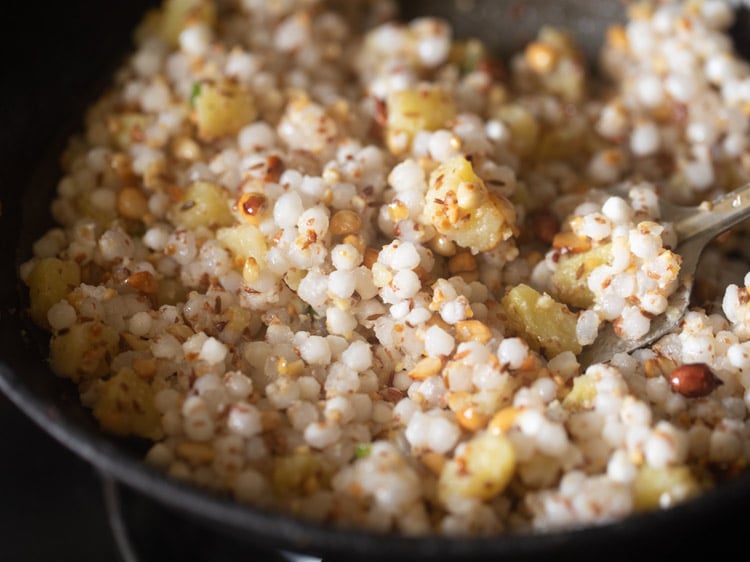 24. Saute the sabudana pearls on a low flame stirring continuously for approx 4 to 6 minutes.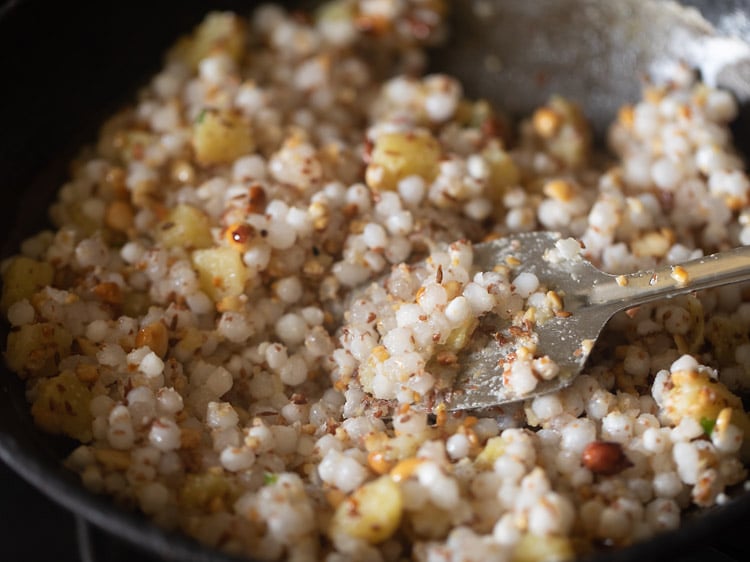 25. Saute till the sabudana become translucent. Taste a few of the cooked sabudana pearls. You should not get a raw taste.
Once cooked, switch off the heat. Do not overcook as the sabudana can become lumpy and dense.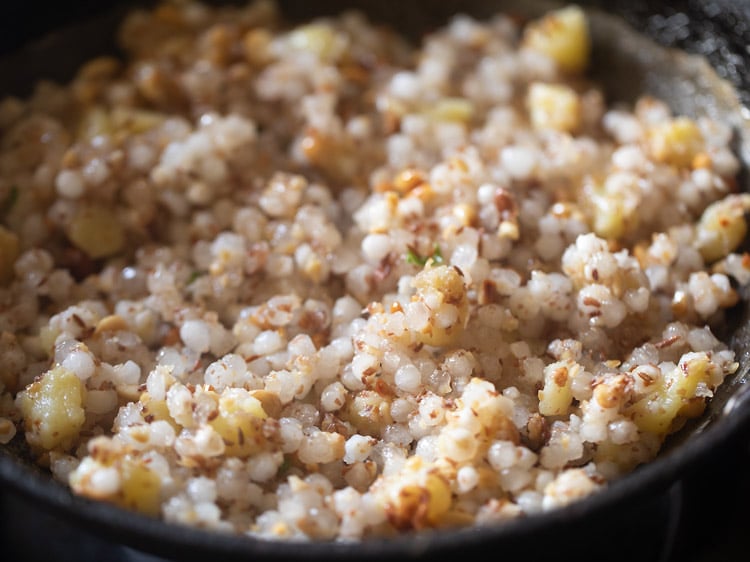 26. Then add 1 teaspoon lemon juice for some tang.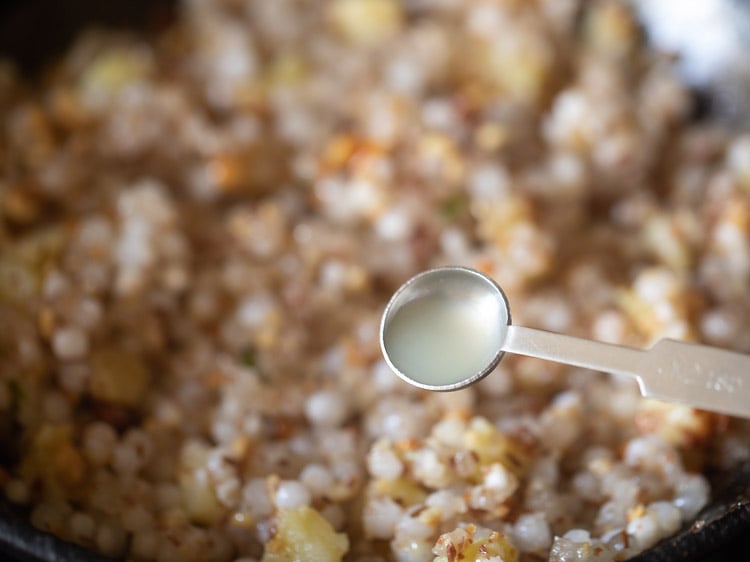 27. Add 1 to 2 tablespoons of chopped coriander leaves. If you do not eat coriander leaves during fasting, then you can skip them.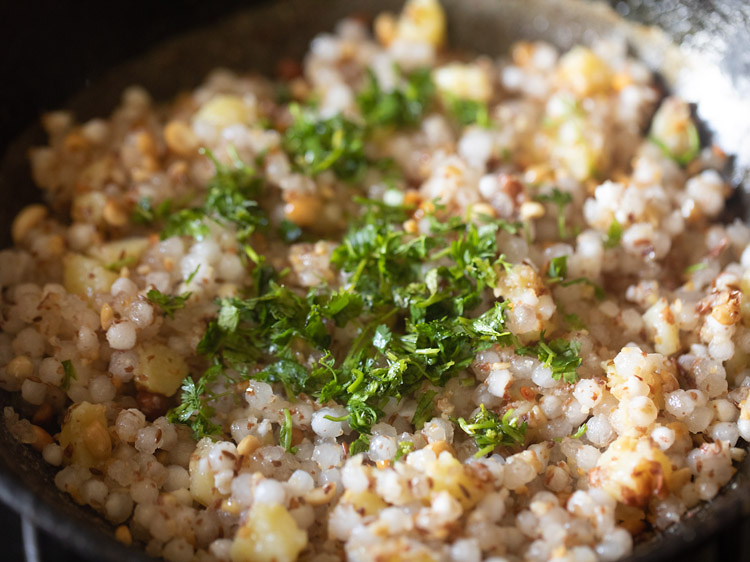 28. Mix well.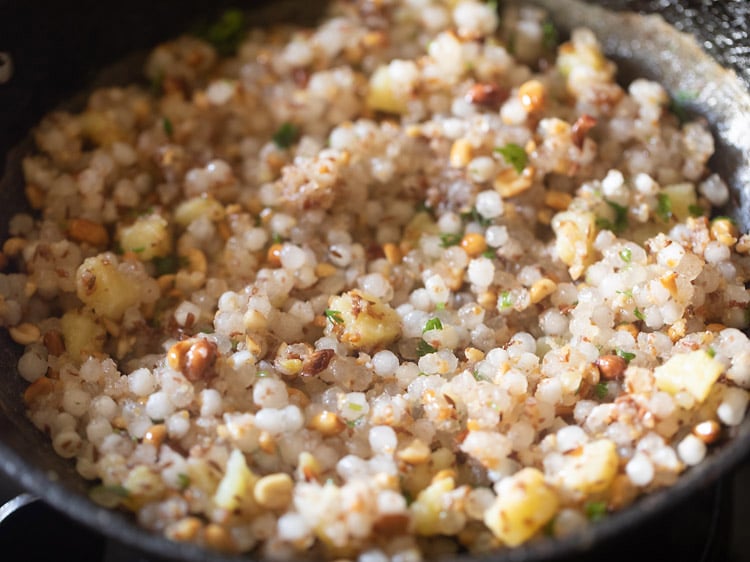 29. Serve sabudana ki khichdi hot or warm. While serving you can also garnish sabudana khichdi with a few coriander leaves. You can also garnish with some grated fresh coconut.
You can eat sago khichdi as is or with a side of sweetened curd or coconut chutney that is specifically made for fasting days.
I am sharing below some tips shared by readers as well as by myself to make a nonsticky sabudana khichdi.
Helpful Tips For Perfect Sabudana Khichdi
Rinse the sabudana pearls in a colander under running water very well until you feel that all starch is rinsed and washed away.
Transfer the washed and drained sabudana in a bowl. Add water with its level just above 1 to 1.5 inches in the bowl.
Cover the bowl and leave the sabudana pearls for 3 to 4 hours or overnight. The time duration will depend on the quality of sabudana pearls.
In the morning before you begin, check on the soaked sabudana. Press a few pearls. They should mash easily. If you feel some hardness in the center, then add a few tablespoons of water and leave for 30 minutes more.
Depending on the quality of sabudana, it can take less or more hours for soaking or will require less or more water.
Using a colander or a sieve, strain all the water from the sabudana. The water has to be strained very well. excess moisture or water can make the khichdi mushy, sticky, lumpy and pasty.
Potatoes can be boiled, steamed or fried before adding to khichdi.
Do not overcook sabudana, as then they can become dry and dense.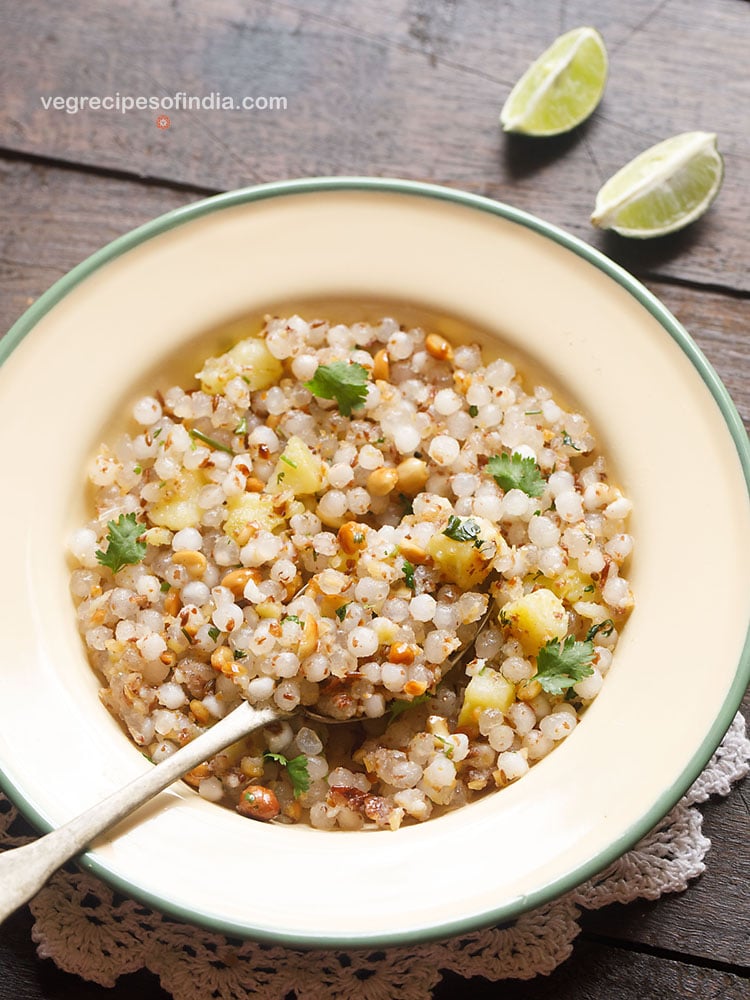 Another Variation To Make Sabudana Khichdi
(One of our reader, Minal has shared this method.)
1. Cook the sabudana khichdi in a frying pan. It kind of help in keeping the tapioca pearls dry and separated. Besides having to use very little oil.
2. In a pan heat oil, add jeera and curry leaves and fry a little, then add potatoes cut into small cubes and fry on sim till the potatoes cook. Alternately you can cover with the lid to speed up the cooking.
3. In the meantime mix together, soaked and drained sabudana, crushed peanuts, chopped cilantro, salt, little black pepper powder, red chilli powder, chopped green chillies and mix this mixture with hand. Keep aside.
4. Check if potatoes are cooked and once done add this mixture to the potatoes and mix well.
5. Check for salt and drizzle very little water on the mixture and cover and cook on slow fire for 2 minutes. Open, mix well and enjoy sabudana ki khichdi with roasted papad.
A few more Sabudana Recipes which you can make for fasting are:
Please be sure to rate the recipe in the recipe card or leave a comment below if you have made it. For more veetarian inspirations, Sign Up for my emails or follow me on Instagram, Youtube, Facebook, Pinterest or Twitter.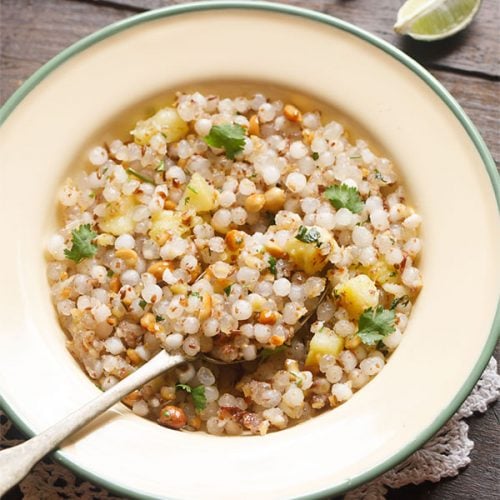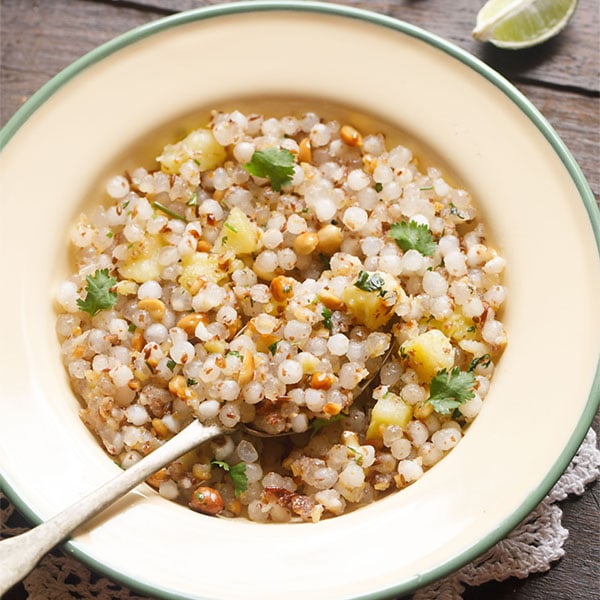 Sabudana Khichdi Recipe for Fasting or Vrat
Sabudana ki khichdi is a delicious dish of tapioca pearls (sago) made with potatoes, peanuts and usually had during Hindu fasting days like Navratri, Ekadashi, mahashivratri. It is also a gluten free recipe. In this recipe post, you will get many tips and suggestions to make the best non-sticky sabudana khichdi. 
Prep Time 20 mins
Cook Time 5 mins
Total Time 25 mins
Prevent your screen from going dark while making the recipe
Preparation
Rinse sabudana very well in water. Then soak sabudana overnight or for 3 to 5 hours.

Next day drain the sabudana very well and keep aside in a bowl.

Boil the potatoes and when warm peel and chop them.

In a pan dry roast the peanuts till browned and when cooled make a coarse powder in a mortar-pestle or in a dry grinder.

Mix the coarsely powdered peanuts, salt and sugar with the drained sabudana.
Making sabudana khichdi
Now heat peanut oil or ghee. Fry the cumin first till they crackle and get browned.

Now add the curry leaves and green chillies. Fry for a few seconds and then add the grated ginger. Both curry leaves and ginger are optional and can be skipped. 

Saute for a couple of seconds till the raw smell of the ginger goes away. Now add chopped boiled potato and saute for a minute.

Add the sabudana. Keep on stirring often on a low flame for approx 4 to 6 minutes. 

When the sabudana loses their opaqueness and starts becoming translucent they are cooked.

Don't overcook as they might become lumpy and hard.

Switch off the flame and add lemon juice and chopped coriander leaves. Mix well.

While serving garnish with a few coriander leaves and drizzle with some lemon juice. You can even add some grated fresh coconut on top. 

Serve sabudana ki khichdi hot or warm as is. Or you can serve with a side of sweetened curd or a satvik coconut chutney made with fasting ingredients.
Rinse the sabudana pearls very well in water.
Depending on the quality of sabudana you soak them in less or more water or for less or more time. If the sabudana is not soaked properly and if the center is hard then it won't cook well. For a good texture and taste in the khichdi, the soaked sabudana has to be softened really well.
After the sabudana pearls are soaked well, drain all the water very well. If there is any water left then this sago khichdi will become pasty or mushy.
Potatoes can be boiled, steamed or fried and then added to sabudana khichdi. I generally boil or steam the potatoes.
You can skip green chilies and coriander leaves if you want.
For Hindu fasting during Ekadashi, Navratri, Mahashivratri, please add edible rock salt (sendha namak) in the sabudana khichdi.
The recipe can be halved or doubled easily.
Nutrition Facts
Sabudana Khichdi Recipe for Fasting or Vrat
Amount Per Serving
Calories 539 Calories from Fat 234
% Daily Value*
Fat 26g40%
Saturated Fat 4g25%
Sodium 946mg41%
Potassium 787mg22%
Carbohydrates 69g23%
Fiber 6g25%
Sugar 2g2%
Protein 10g20%
Vitamin A 100IU2%
Vitamin C 71.6mg87%
Calcium 94mg9%
Iron 6.4mg36%
* Percent Daily Values are based on a 2000 calorie diet.
This Sabudana Khichdi recipe post from the archives (originally published on October 2013) has been updated and republished on 21 Jun 2021.
Source link