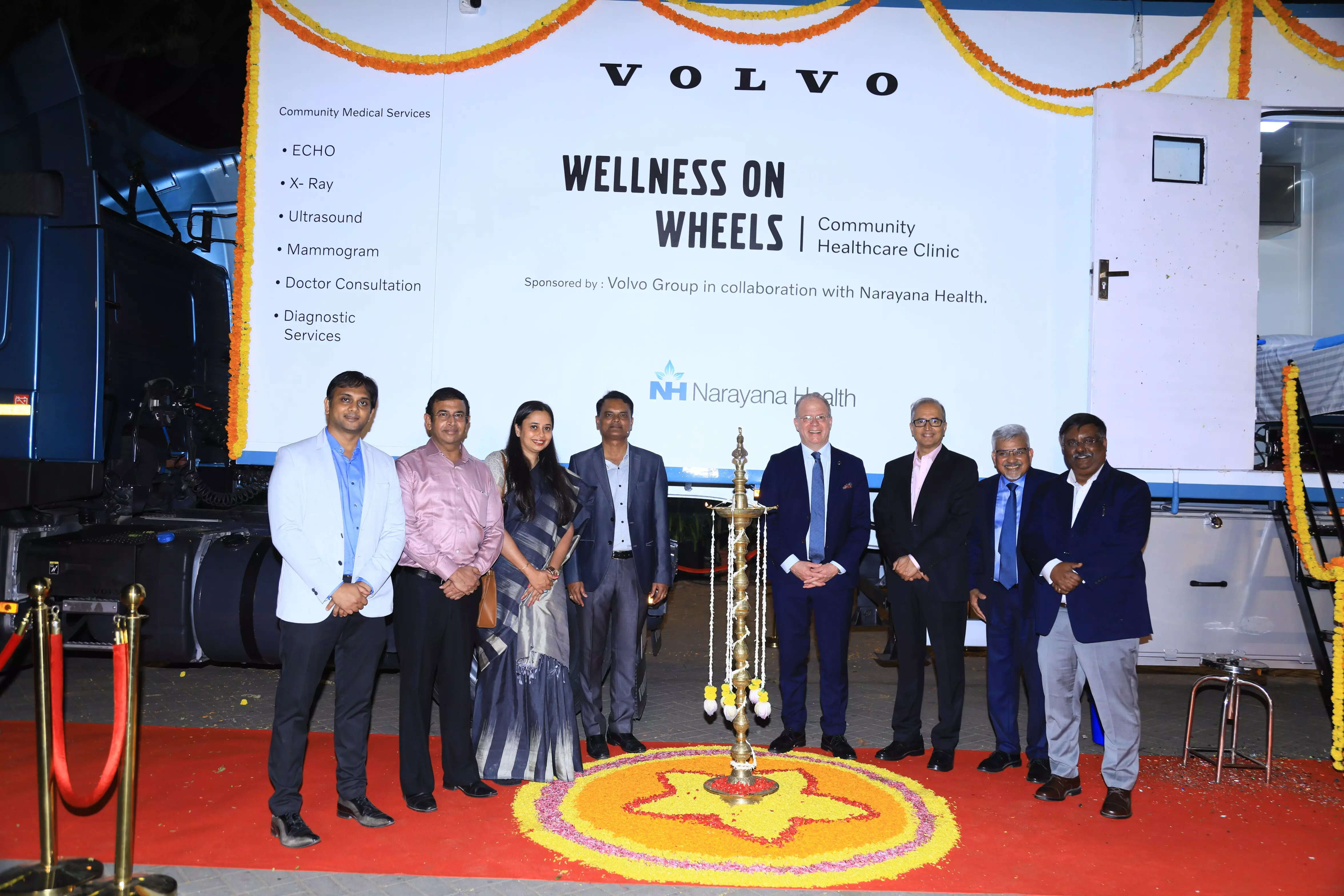 New Delhi: As part of its societal initiatives, Volvo Group has built an advanced mobile community clinic, 'Wellness on Wheels' in partnership with Narayana Health, to provide free community screening and medical services in rural parts of Karnataka as well as in other states of the country.
'Wellness on Wheels' was inaugurated jointly by Martin Lundstedt, President & CEO, Volvo AB along with Dr Devi Shetty, Chairman Narayana Health in presence of Kamal Bali, President and MD, Volvo Group India, along with the Team of doctors from Narayana Health, and officials from the Volvo Group in Bengaluru, the company said.
The mobile clinic has been specially customised and equipped with advanced screening equipment for detecting cancer, heart ailments along with non-invasive diagnostic tools, such as ultrasound, ECG, and X-Ray machines. To enable telemedicine and consultation with experts at the base Narayana Health hospital in Bangalore, this vehicle is Wi-Fi enabled and provided with high tech laptops, specially configured for doctors, to facilitate remote communication and to get expert advice on-the-go. 42 feet long, specially designed spacious medical container has a diagnostic lab and a chemical toilet fitted with air conditioners and is independently powered by the on-board generator and inverter. The vehicle is provided with canopies and chairs for patients in-waiting, the company said in a media relese.Unveiling the mobile clinic, Martin Lundstedt, President & CEO, Volvo Group, said,
"We live in an inter-dependent world, within which, in whatever we do, care for people and our planet is a neccessary condition. I am so glad that this mobile clinic will be reaching out to remote corners of the state and the country – touching lives and protecting them," Lundstedt sai.
Kamal Bali said, "At Volvo Group we are really pleased to partner with Narayana Health our partners in this program, led by Dr. Devi Shetty, whose commitment to societal well-being is already a legacy. Health & Wellness of our people is critical in ensuring the prosperity of our nation. As also articulated in the country's Ayushman Bharat Mission, building a network of health & wellness infrastructure is a key part of achieving this. This mobile clinic on a Volvo Tractor-trailer – Wellness on Wheels – will support in making access to health & wellness inclusive – by reaching out to rural & remote areas across Karnataka and the rest of India".
Dr. Devi Prasad Shetty said, "Diagnosing illness at a later stage makes it harder to treat and alleviate a patient's condition – which unfortunately is the norm today. We could save many lives if we can carry out an early diagnosis. This mobile clinic will initiate the culture of preventive healthcare while reaching out to economically weaker and under-served sections in the country, helping to save precious lives."
'Wellness on Wheels' is built on a state-of-the-art Volvo Prime mover FM 4×2, fitted with automated I-shift transmission coupled with sophisticated medical equipment. In addition to a range of active and passive safety features, the vehicle has air suspension and ABS brakes for a vibration-free ride to protect the sensitive medical equipment on-board, the release said.