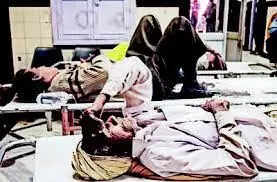 Jaipur: Implementation of the Right to Health Bill has become a challenge for the state government with private doctors opposing it vehemently. It is not the first time that private hospitals have protested against any Bill or Act which is intended to bring them under some sort of government check.
While health activists welcome the intent of the state government to come up with the Act claiming that it will bring more "transparency and accountability", private hospitals fear that it may encourage 'inspector raj' in private hospitals.
Amid the private hospitals' opposition, the state government cannot throw the Bill in the dustbin as it was a poll promise and people are demanding its enactment now as it is the last year of the current state government.
Health minister Parsadi Lal Meena recently said the select committee has called the doctors for a meeting on the Bill.
The agitating doctors have formed a joint action committee, which has already written a letter to the chief minister requesting him not to table the Bill in the assembly again. The Bill was referred to the select committee on September 23, 2022. Congress had promised the Right to Health Act in its election manifesto in 2018.
Earlier, private hospitals and doctors were opposing certain provisions in the Bill such as patients in an emergency should get treatment without prior payment of necessary fees or charges. The doctors said they have not mentioned what 'emergency' means.
"We are not against the Right to Health, but we are against the Bill. We will keep our hospitals and clinics shut for a day on February 11 in protest against the Bill," said Dr Sunil Chugh, chairperson of, the joint action committee of protesting doctors. The Bill might have been marred by controversy due to private hospitals opposing certain provisions, but many other provisions are focusing on transparency and accountability, thus benefitting patients.
"Right to Health Act if implemented in its true spirit would certainly lead to greater transparency and accountability in the health system, which would in turn lead to a better quality of care and patient outcomes. This would also generate greater trust among people in the health system and strengthen doctor-patient relations," said Chhaya Pachauli, state coordinator, of Jan Swasthya Abhiyan (JSA), an umbrella organization of health rights and social activists.
In the Bill, it has been mentioned that many times, patients complain that doctors or hospitals do not provide information about a disease, treatment, its cost etc. The Bill advocated not only providing complete information to patients but also it talks about the grievance redressal mechanism.